It may be almost time to kiss the summer season goodbye and move on to cozy sweaters and savory comfort food. But before we jump the gun, let us remember that September is never quite as chilly as we think it to be. While it's certainly time to put the cap (or cork) on our summery, high acid whites, September doesn't necessarily scream full bodied, oak driven wines either. So what do we drink? Here are five transitional summer-to-fall whites perfect for September weather:
2014 Domaine Daniel Pollier Macon Fuissé 
Searching for a White Burgundy without the price tag of a White Burgundy? Look to the Maconnais for elegant, affordable Chardonnays at a fraction of the cost of other Burgundian appellations. Lightly oaked Chardonnay is a perfect segue from summer to fall, introducing savory oak nuances into the mix without pre-emptively overpowering the palate. Daniel Pollier's Macon Fuissé presents a fresh palate of stone fruit and creamy almond; structured and well balanced, this wine is fresh enough for the lingering heat, yet just the right amount of robust for the seasonal change. ($17)
2014 Domaine Damien Pinon Vouvray Sec Tuffo
Chenin Blanc from the Loire Valley is another transitional favorite, specifically for its apple-like characteristics that scream fall, yet refresh like summer. Damien Pinon is the third generation at his family's estate, seeking to preserve their family traditions yet continue to modernize their winemaking. His Vouvray Tuffo presents expressive aromas of fresh stone fruit that carry over to the palate. Notes of juicy green apple and tender minerality shine in this succulent Loire Valley Chenin. ($17)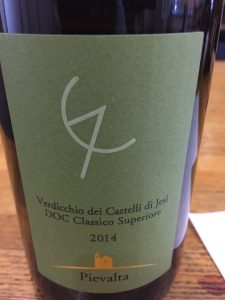 2014 Barone Pizzini Pievalta Verdicchio dei Castelli di Jesi Classico Superiore
Otherwise known as the flagship varietal of Le Marche, Verdicchio classic almond-like flavors are both clean and fresh, retaining slight notes of citrus that match the lingering heat of summer, yet evoke a round, warming  mouthfeel for those chillier nights ahead. Pievalta's vines grow in clay and limestone soil and are biodynamically farmed. Malolactic fermentation rounds the mouthfeel of their Verdicchio based wine, with stainless steel ageing preserving the natural freshness and acidity of the grapes. ($18)
Alpha Estate Malagouzia "Turtles Vineyard"
Malagouzia, a native varietal to Greece, is a powerfully aromatic grape that shines with floral aromas highlighted with notes of lychee. Alpha Estate's vines are found on the Amyndeon plateau of northwestern Macedonia at altitudes of over 2,000 feet. Their single varietal Malagouzia has a savory honeysucks characteristic, yet retains a mouthwatering juiciness for those warmer September days. The wine undergoes lees stirring for two months, creating a layered texture and long finish. Pairs perfectly with traditional Greek fare, especially salads and fresh fish dishes. ($18)
Donkey & Goat "Lily's Cuvee" Chardonnay Pet-Nat
Pet-Nat, short for "pétillant naturel" is a great alternative to Champagne when the craving for bubbly arises. Donkey & Goat produce all of their wines naturally, that's to say, the wines are produced from organically farmed grapes and without the use of additives or filtration. Their Chardonnay Petillant is a delicious, effervescent way to celebrate the start of the season, bursting with palate-coating flavors of honeyed stone fruit. Aromas of fresh orchard and slight spice with a palate pronounced by slight residual sugar offer a perfect marriage of summer to fall goodness. Fizzy and fresh, there's no better way to ring in the start of this fabulous, fall season.