The Promise of Extreme Northern Wines — One Case, Anyhow
It seems to me that too many people are trying to make wine in extreme locations around the world. Case in point: I was quite surprised — and somewhat skeptical about the results– to find that wine grapes have been grown in the northwestern part of the state of Michigan for decades. But when I visited some of the wineries there over the past couple years, I found that every winery made at least one wine that I considered to be good – a good wine that was not just a very popular wine, or a fun tasting room wine that I might later regret buying.
I was further astonished to discover that the Michigan's wine region of Old Mission Peninsula, on the shores of Lake Michigan near Traverse City, has been a designated AVA (American Viticultural Area) since 1987. In fact, this area is on the 45th parallel (latitude), which is the same as legendary regions such as Burgundy, Piedmont and Oregon's Willamette Valley. However, other factors do need to be taken into account – such as the terrain, the soil type, the climate zone, whether the area is continental or coastal — so latitude is far from the whole story.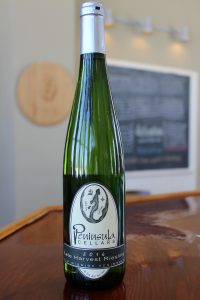 Admittedly, there are a number of well-known, northern regions that work well for growing classic wine grapes (vitis vinifera). Europe's far northern borderline wine areas include Champagne and Burgundy in France, the Valais in Switzerland and the Mosel in Germany, to name a few. In the US we have increasing numbers of wineries in northern states such as Vermont, Maine and Minnesota. However, many of these US producers grow fruits and hybridized wine grapes, and make fruit wines and blended wines as well – drinks which, as enjoyable as they may be in the tasting room, are not considered to be "real" wine, which is classically made from the traditional wine grape vitis vinifera.
Vitis vinifera can be successfully grown in far northern US areas, especially where there are bodies of water that temper the vineyards' microclimates. Currently, the development of these vineyards may be aided by climate change, and/or simply by having more hours of sunlight during long summer days. A prime example is found in Old Mission Peninsula in northwestern Michigan. (This area is also the tart cherry capitol of the US, and of course there are cherry wines, but that's not what we're talking about here.)
Today there are nine wineries in the Old Mission Peninsula AVA, an area which is also becoming increasingly popular as a tourist destination. Some of the wineries are known for their event spaces (weddings and the like) or accommodations, and most offer a variety of experiences, including wine dinners, vineyard tours, guided tastings and/or food pairings. The wines function both as a draw and as souvenirs for visitors, and they are made in small quantities, usually only a few hundred cases of each style. For all these reasons, the wines are not inexpensive – but then price is often not the deciding factor in wine tourism purchases.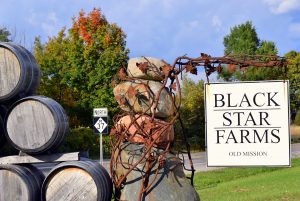 At the Old Mission Peninsula tasting rooms, I found that, in common with wineries in many other new wine regions, there was usually one very good wine and one very popular wine at each winery. Sometimes this was the same wine, and sometimes not. In other words, the most finely crafted wine was not necessarily the most beloved by visitors.
Recently, I had a chance to sample some of the Old Mission Peninsula wines at home, far from the madding crowd as it were. As expected, there were several that I would consider good wines, and/or on the right track to be objectively well-considered in the greater wine world. In terms of winemaking there is still work to be done. Notably, several of the Old Mission Peninsula wines presented very well when first opened but were disappointing later: not stable, deconstructing or deteriorating when whey had been opened only 24 hours, even when preserved and refrigerated.
At this point in time, the Old Mission Peninsula winemakers have the usual challenges of an emerging wine region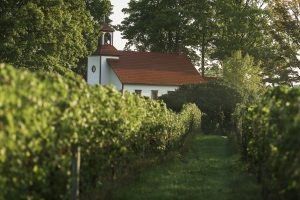 with very young vines. For example, there is more work to be done in the orientation of the grapevines; more knowledge needed about the area's soil types for precise placement of vineyards; greater experience in regional winemaking must be built. In addition, producers are wrestling with cost-related decisions such as whether or not to buy grapes from other farmers in order to increase their output; what types of wooden barrels and staves to use; and whether to use corks vs. screwcaps for bottle closures.
As an example, we can look at one of these elements, closures: while corks signify higher quality wines to Americans, screwcaps are often best in these circumstances because inexpensive corks may be responsible for a significant percentage faults in the finished wines.
Also, one of the most important considerations that emerging regional winemakers often get wrong is the amount of "wood" to use in winemaking. "Wood" refers generally to oak wine barrels. It can take years of experience to determine how wines from new regions will benefit from exposure to wood, and each new French oak barrel costs around $1,000. Barrels from the US and other countries can cost less, but they have an entirely different (often less desirable) effect on the finished wines. An inexpensive way to try out oak exposure is to dip a few barrel staves into the wine vats for a period of time. Though this may impart some of the benefits of wood-ageing, it is like using artificial barrel flavoring because the wines don't profit from the additional, subtle benefits of ageing in an whole barrel (which we won't go into here). It is also considered "fake winemaking" and is firmly looked down upon by a majority of quality winemakers.

Overall, wine is a field where winemakers learn by experience, and it's evident that in Old Mission Peninsula, even while they are still in the learning stages, many of the winemakers there are now on the road to success.
TASTING NOTES
2016 Arcturos Sauvignon Blanc
Typical sauvignon blanc-style aromas of green herbaceousness but with some wood-like seasonings thrown in. On the palate more citric than anything else. Which is good because this type of acidity is very stimulating: it makes one want another swallow, and another. And because it counter-balances any residual sugar in the wine. Sipped with food, the sweetness of this wine became more apparent, but I paired it with a dish with Asian flavoring, which worked very well.
Rating: 85 – Becky Sue Epstein
WHO: Black Star Farms
WHAT: 100% sauvignon blanc
WHERE: Leelanau Peninsula, Michigan, US
HOW MUCH: $18 (media sample)
___________
2016 Hawthorne Vineyards Rosé
As soon as I opened this wine, a funky aroma wafted up from the bottle. The cork smelled similarly distasteful. After pouring the wine into a glass and giving it some time – and trying it again a few hours later – the fault resolved into a mustiness of aroma, and the wine's flavors were overwhelmed by bitterness. I would say this was a bottle fault, perhaps due to a problem with the cork. Without another bottle to sample, that is all I can report.
FLAWED SAMPLE
WHO: Hawthorne Vineyards
WHAT: 40% cabernet franc, 26% pinot meunier, 13% merlot, 12% pinot noir, 9% gamay
WHERE: Old Mission Peninsula, Michigan, US
HOW MUCH: $12 (media sample)
___________________
2016 Peninsula Cellars, Late Harvest Riesling
Exciting hint of apricot-skin botrytis in the aroma, following through into the flavor of the wine. Not an extremely complex wine, but true to character in a light-hearted late-harvest, cold-climate dessert wine. More people should start to learn about dessert wines this way. Elements of stone fruits in syrup and enough acidity and flavor balance to make a good dessert wine.
88 points – Becky Sue Epstein
PAIRING: Fruit-studded desserts that are not too sweet, such as rice pudding and classic fruit tarts.
WHO: Peninsula Cellars
WHAT: 100% riesling
WHERE: Old Mission Peninsula
HOW MUCH: $19 (media sample)
________________________
2016 Brys Estate
Appropriately translucent in hue, with a light red-brown color. Some earth, some red fruits but a strain of tropical fruit, too, in the aroma. Wood, wood, wood on palate and in long finish. Some bright acidity and a touch of the fruit leak through. A good attempt at a Burgundian style – thought not there yet.
81 points – Becky Sue Epstein
WHO: Brys Estate Vineyard & Winery
WHAT: 100% pinot noir
WHERE: Old Mission Peninsula, Michigan, US
HOW MUCH: $32 (media sample)
__________________________________
2017 Mari Vineyards Gamay Noir
Clear purple red in color. Musty nose yet some bright fruit peeking through – tart apples and red fruits. Light, a bit thin, some acidity and chalky minerality. This grape is typically used as for young wines (Beaujolais) or in blending, and it does take some expertise to get it right – which this wine is not quite.
79 points – Becky Sue Epstein
WHO: Mari Vineyards
WHAT: 100% gamay noir
WHERE: Old Mission Peninsula, Michigan, US
HOW MUCH: $26 (media sample)
______________________________
2016 Chateau Chantal Proprietor's Reserve Trio
Big appealing aromas of merlot and cab,– but it's cabernet franc, not cabernet sauvignon. Substantial heat and plenty of tannin, prioritized over dark red fruits. Acidity too. This was initially an extremely attractive wine when opened, but it was a bit overwhelmed by food. Then I learned it would have been best to finish it off that evening; it did not hold up after 24 hours. Even under refrigeration it seemed to deconstruct into wood and fruit.
88 points – Becky Sue Epstein
WHO: Chateau Chantal
WHAT: 61% merlot, 38% cabernet franc, 1% pinot noir
WHERE: Old Mission Peninsula, Michigan, US
HOW MUCH: $27 (media sample)
_________________
2017 Chateau Grand Traverse Dry Riesling
Lightly fruity, this wine has peach and peach-skin aromas and flavors with a touch of pink grapefruit. It has enough crisp acidity and balance to be both pleasant on the palate on its own, and perform well when paired with light, delicate foods. On the road to classic Riesling. As a plus, the wine is low alcohol (10.5%). Quite reasonably priced, too.
88 points – Becky Sue Epstein
WHO: Chateau Grand Traverse
WHAT: 100% riesling
WHERE: Old Mission Peninsula, Michigan, US
HOW MUCH: $13 (media sample)
_______________
2016 2 Lads Winery Cabernet Franc
The fruit in this wine feels very ripe. The dark red fruit opens quickly into an explosion of taste that one rarely finds in northern cab franc; no doubt the addition of some merlot enhances and rounds out the flavors. There's also leather and brisk acidity going on in the wine, along with tannins from the grape skins. And tannins from the barrel staves – which, coming from a European orientation, I was surprised to see the winery admit to, calling them "deconstructed French oak barrels" — though I'm all for transparency!
86 points – Becky Sue Epstein
WHO: 2 Lads Winery
WHAT: 85% cabernet franc, 15% merlot
WHERE: Old Mission Peninsula, Michigan, US
HOW MUCH: $35 (media sample)