It is 5 o'clock on a Saturday afternoon, and I am gingerly sipping a flaming cocktail called the Passion Fruit Volcano in a dark, underground bar in central Frankfurt – an ironic place to be starting my somewhat curious mission to drink a lot of Perrier-Jouët Belle Epoque in an outdoor bar that is teetering, at least in my mind, atop the 64th floor of a luxury hotel in Bangkok.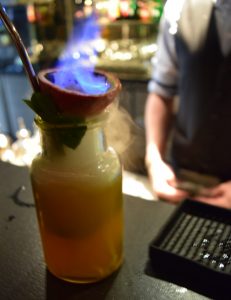 Is Hunter S. Thompson somewhere in Valhalla taking note?
Actually, the story doesn't really begin here.  Peel away the time, and the idea behind this vision quest goes back to a day in late winter when I am scanning the dozens of the press releases and story pitches that daily flow across my computer screen back in Delaware.  During the snows of mid-February, one headline catches my writer's eye:
"Highest Champagne Bar in the World Opens on the 64th Floor of lebua at State Tower."
I read down a bit further to the beauty part:  "If you will be in Bangkok, we'd love to invite you to experience Flûte à Perrier-Jouët Bar."  Invitations such as this, asking me to drop by some restaurant or winery next time I'm in Napa Valley or New York City, are quite common. But Bangkok? Really?
A couple of days later, there is an insistent follow-up note re-issuing the invitation.  I immediately write back what I think is a bemused reply: "Surely, you aren't inviting me to fly to Bangkok?"  The next day, the reply is, "Yes, we would love to arrange a trip."
Sensing this flirtation is moving much too quickly, I decide to dampen the budding bar romance before things get out of hand.  I will flash my metaphoric wedding ring:  "I should tell you," I write, "that ever since I was a child, I have had this great fear of open heights."  It's true.  Even though I'm in airplanes all the time, and in the good old days would sit next to the windows at the restaurant atop the World Trade Center, I can't even crawl out onto the roof to clean our second-floor gutters.  On a bad day, a high sidewalk curb might intimidate me.  Driving across tall bridges? Agony.
No problem, comes the reply. If you can't go outside, press your nose against the glass door.
"But," my fingers stammer into the computer, "I'm not flying around the world in economy class just to have a glass – or several glasses – of Champagne."  No problem – we will fly you in business class, I am cajoled, and, if you don't mind, we can break up the trip by hosting you at our Breeze restaurant in Germany at the Steigenberger Frankfurter Hof.
My resistance crumples like a punctured soufflé.
There is probably not a foodie or wine lover among us who doesn't salivate at the prospect of setting out on a long journey to an exciting destination restaurant or bar that we deem alone is worth taking the trip:  Venessia in the Venetian Lagoon, Noma in Copenhagen, the French Laundry in Napa, Sanctuary Lodge at Machu Picchu.  Just tell us which plane to get on.
Additionally, in spite of my fears, I find the lure of this unlikely adventure that has been dropped into my lap is gradually becoming irresistible – fly in comfort to Asia in order to drink delicious Champagne while the wind whips through my hair halfway to the stars.  And, along the way, test some innovative cocktails, enjoy excellent cuisine and maybe take a long-tail boat jaunt past the Buddhist temples fronting the Chao Praya River.  My friends tell me I'm ludicrous for even considering not going.  And so I board the plane.
"You'll love Bangkok," my Frankfurt host, Rajan Khurana, tells me as we taste through five of bartender Chris McClung's smoke-themed cocktails at Breeze.  Breeze's namesake, I know, is one of the high-altitude outdoor restaurants located in the same Bangkok building as my Champagne bar. The owner of all this is lebua, a hospitality company than likes to see its name spelled all lower case. Lebua is also Khurana's employer.
Lebua Hotels and Resorts, he explains, has a handful of properties in India and New Zealand, but its base is in Bangkok's State Tower building. And atop its all-suite hotel are three luxury restaurants – the wind-yclept Breeze and Sirocco, fittingly located outside, and the indoors Mezzaluna. Distil bar is also inside, while Flûte à Perrier Jouët is outside, sending nightmarish shivers through my body each time I think of walking from a safe haven and out the doors that lead to it.
A couple of days and 11 hours of flight later, I step off the elevator on the 64th Floor of the State Tower. I have taken a refreshing shower at my suite seven floors below, had a brief nap, sampled the chilled bottle of PJ Grand Brut someone has thoughtfully provided me and shaken off what little jet lag has trailed me across continents. Although luxurious, the suite has re-elevated my fears. The balcony outside my bedroom is less than 10 feet deep, and I step back a foot or so from the all-glass door while taking pictures.
A group of hostesses greets guests as we exit the elevator, and one guides me to the Distil bar, one of the venues located beneath the golden dome that tops the hotel.  It has a comfortable, lounge-style setup with a small, wrap-around balcony on one side suitable for strolling.  A group of people from lebua join me, and we all are poured glasses of PJ brut.
The next evening, I am told, I will be having dinner just upstairs from where we are now in the very elegant, French-cum-Japanese restaurant, Mezzaluna, with the Champagne-ebullient founder and CEO of lebua, Deepak Ohri. It was Ohri's idea to create the golden Dome with all its culinary manifestations – both inside and out – as a showplace for Bangkok.
The PR manager, Sasipha Kaewkham, explains to me that during the summer's rainy season the staff is well-trained to shift outdoor activities inside at the drop of too much rain and also has a good track record of anticipating storms and their departures.  Indeed, only an hour ago, there had been rain, lightning and wind, but now the outside is all ready for business.
Which is my cue to finally step outside and see if 64 stories of nothingness only a bean bag toss away will turn my legs to silly putty. To paraphrase Kris Kristofferson, "Help me make it through the door." Glancing out, I can see the Champagne bar to my left, slightly elevated and surrounded by a railing. Good idea. Even better, I see the bartender opening a bottle of Belle Epoque.
I don't bother to press my nose against the door.  The ingestion of PJ brut has emboldened me to just open the glass door and stride confidently toward the smiling bartender holding out a chilled flute.  The Champagne is rich and lovely as it slides down my throat.
We exchange pleasantries as I sip, and at first I don't let my eyes stray away from his face.  Then I survey my new domain.  I am several feet from the edge on the upper level, and the low walls and decorative barriers take away the feeling of being on the edge. Yet those who come here because of the height are still rewarded with panoramic views of the vast city.
I catch glimpses of the somewhat larger lower level where Sirocco restaurant is resplendent with its crystal and white table cloths.  While I'm not totally at ease, I feel comfortable enough to shuffle my feet a little while taking in the surroundings.
Meanwhile, my hosts begin regaling me with stories about how the 2011 film, The Hangover, Part II, which was set in Bangkok, was partially filmed up here on the 64th.  "Those Hangover films made Bradley Cooper who he is today," one says.  "No one knew him back then."  There is a pause, and Sasipha sighs, "Bradley Cooper… I wish I had been working here at the time."
With my attention partially diverted, the bartender edges some more Champagne into my glass.  In fact, I am told, the hotel even has a Hangover Suite.  "I've not seen the film," I confess, "but I did see a couple of still photos on the internet.  In one, Cooper was standing on this broad flight stairs talking on a cell phone.  He looked awfully close to the edge."
"Oh, that's right over here." We move past an improbable hedge of shrubbery that partially conceals the level below.  Suddenly, there it is – a large, wide arc of exposed stairway, as ominous to me as the Potemkin stairs in that old film.  Even though there is another green hedge at the bottom between the stairs and stumbling over the edge, I can now see not only the horizon but actual cars on the freeway below.  This is not good.
Someone helpfully suggests, "Maybe if you walk on the inside, keeping your eyes on the horizon.  But be careful not to trip." At the bottom of the stairs and  next to a fountain, two young hostesses dressed in black with flowing golden outer garments wave shyly to us.
I wave back, look at the horizon, then down at my feet. But rather than glide down the steps toward them, I pivot.  It's time to go back inside and drink more PJ.  Or perhaps order a Passion Fruit Volcano.
I ask myself, is the view – and the Champagne – worth the trip?
We have dinner at the original Breeze, a couple of floors down, but still on an open rooftop. Nevertheless, I feel becalmed as we spend a lovely evening at a table not very far from the railings.  The meal, and the one next night at Mezzaluna, proves that lebua doesn't really need Champagne bars and showy venues to be a proper culinary destination – the food and the service alone are truly outstanding.
During the meal, we are entertained by a lightning storm in the near distance, flashing dramatically and seemingly at eye level. Later, we go back to Distil and outside to a small plaza for a Cuban Juan López cigar and some fine cognac. The vertigo is receding as my consumption of wine and spirits increases. The retaining wall out here also seems a little higher.  And, besides, the darkness provides a shadowing that obscures what lies beneath.
We discuss the fact that lebua plans to open a third Breeze next year at a yet-undisclosed venue in Philadelphia, a city a few minutes away from where I live. I will miss the journey, I say, but will this Breeze float somewhere atop the City of Brotherly Love?
My hosts smile, inscrutably.