As unlikely as it seems, 2010 seems to be the second excellent vintage in a row for the Grands Crus wines of Bordeaux.  This phenomenon does occur a few times a century, but early reports of this new great vintage engendered a lot of skepticism.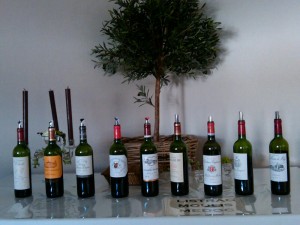 This is understandable because of events from a few years ago. After the truly great 2005 vintage, many people in the Bordeaux wine business tried to spread the rumor that the 2006 vintage was just as great. It didn't prove to be—at least so far.
Here's why it matters: money.  A bottle of the current release of Chateau Angélus, for the rather average 2007 vintage goes for around $250.  The excellent 2005 vintage costs $400-$500.  A bottle of Chateau Mouton Rothschild from 2007 can be found for under 500$, while 2009 futures were above 1000$ a bottle.
Who is buying these wines?  Collectors.
Who is drinking these wines?  Collectors—mainly in China, it seems.  Collectors in other parts of the world treat the wines like luxury items, amassing and trading, rarely opening the bottles.  But Bordeaux is extremely trendy in China, and a certain group of people has the resources for this.  It's more about fashion, explained the journalists from China who were tasting en primeur with me last week in Bordeaux.  Consumable fashion, not collecting.
Wait. A Second?
What do we in the US drink?  Well, what we should be drinking are the "second wines" of the top châteaux—the "classified growth" chateaux.  As the prices have risen, the number of potential buyers for their "grands vins" has declined.  The vineyards of each château are finite, so if they are making only so many bottles of their top-tier wines, they are producing more bottles of their second wines—from the same vineyards. At least that's what they told me at Mouton Rothschild.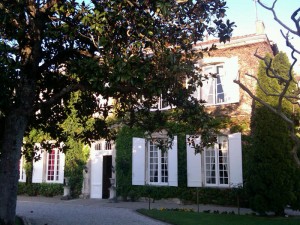 As these "second wines" come online with increased production, they sell for a fraction of the grand vin price.  But this doesn't last long.  Each year, as more people realize the quality of the wines—and as the wines themselves often improve—the prices go up.  Something to think about the next time you're looking for that special bottle from a classified growth in Bordeaux.
In addition to the improvements in second wines, there are trends in design, in labels, etc.  This year, I noticed that silver is big.  Mouton's second wine is called silver wing (Aile d'Argent).  At Chateau Pichon-Longueville Baron, the label re-design is all about adding touches of metallic silver.
Trends in taste continue to evolve.  As Bordeaux enology professor and consultant Denis Dubourdieu mentioned, for the past few years, wine writers have been complaining about higher alcohol levels in the wines here.  Yet, he says that at tastings, the higher alcohol wines get the higher marks.  He also points out that it's the same as the situation was with oak in wine, twenty years ago: complaints about too much, yet higher scores at tastings.
So, rumors and debates continue to abound.
An early verdict
After a week of purple lips, blue teeth and black tongues (from the red wines) most of the tasters found the tannins in the 2010 vintage red wines incredible, the wines themselves generally excellent—and the white wines, maybe even better.  We're divided about whether the 2010 wines will be ready to drink earlier than the 2009s, but I'm tending toward that theory right now.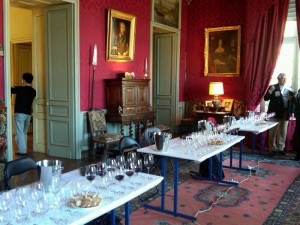 Of course, it will be some time before the wines will be released, and even longer before they're ready to drink: 3-4 years for the lowest tier wines of the classified growths, 7-10 years for the "second wines" and 10-15 years before the grands vins will be at their peaks.  And they are all expected to hold their peaks for quite a few years beyond that.
If you want a chance to try out some of the wines yourself, the Grands Crus châteaux are opening their doors to wine-lovers for one weekend this spring: the Bordeaux Weekend des Grands Amateurs is May 7-8 this year.
You can find all the Bordeaux 2010 En primeur reports by Becky Sue Epstein right here.
---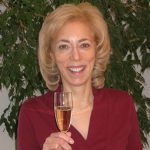 Becky Sue Epstein is Palate Press's International Editor. An experienced writer, editor, broadcaster, and consultant in the fields of wine, spirits, food, and travel, her work appears in many national publications including Art & Antiques, Luxury Golf & Travel, Food + Wine, and Wine Spectator. She began her career as a restaurant reviewer for the Los Angeles Times while working in film and television.