Imagine if a former MTV executive tried to make wine in Napa Valley, based in part on his research into millennials' tastes. What would he come up with?
Extra points for those who guessed old-fashioned wines like the greatest Napa Cabs of the '60s: lower in alcohol, more savory than sweet.
"Five or six years ago when I worked for MTV, I did a project where I was asked to do something for millennials," recalls former advertising executive Kashy Khaledi. "In focus groups we asked everything about their favorite drinks and candies. We didn't have a lot of people who liked Coca-Cola, but we heard a lot about Sour Patch Kids. They all ate those. And they drink kombucha."
Thus, while most people in Napa are trying to make the next 100-point Cabernet, Khaledi has instead created an intriguing project in a wine region generally defined by conformity. "There is a monoculture in Napa Valley," he says. "Not just with the grapes. Culturally and racially, there is a monoculture. We want to create something different."
The label is called Ashes & Diamonds, named after a 1958 Polish movie. Though his family is in the wine business, Khaledi has spent the entirety of his previous career in music, starting as a music editor for Hustler and then working for record labels before MTV. He is going about the wine business like a music producer: lining up artists and letting them work.
This wine super group, though, is no lame pop band. Instead, they are Napa's equivalent of low-fi postpunks, starring two winemakers: Steve Matthiasson (pictured above with Khaledi), well-known to fans of restraint in Napa; and Diana Snowden-Seysses, who spends her time between a family estate near Rutherford and Burgundy's Domaine Dujac (which her husband runs). In the beginning, Khaledi also worked with Dan Petroski, until the latter's own Massican wines required more of his attention.
"Kashy said, 'I want to work with you. I want you to do your White Album'," Matthiasson recounts over takeout paired with Ashes & Diamonds in his Napa Valley home. "I jumped at it. He was clear about what he wanted to do. These wines are different from Matthiasson wines, but they make sense to me philosophically and aesthetically."
I want to interject here that usually, when I am at dinner in Napa Valley, I don't talk about music because my tastes are decidedly non-commercial. However, after being told that a mutual love of Black Flag and skateboarding brought Khaledi and Matthiasson together, I was looking forward to discussing the '80s LA punk band. But when I informed them my favorite Black Flag album might be "My War," they exchanged a look I hadn't seen since high school. Realizing they had to make nice to the journalist, Matthiasson's sympathetic response was simply: "I like the early stuff."
And we're back to wine. Khaledi likes to drink Philippe Bornard's Poulsard, a natural wine darling from the Jura. But family connections to Napa kept him sampling the valley's wines. He didn't have an epiphany until he bought some older Napa Cabs — Beaulieu Vineyard and Inglenook — from the 1960s. Now convinced, he was able to buy an estate vineyard in the Oak Knoll District that's planted with Merlot and what he calls "disease-ridden 30-year-old Cabernet Franc vines."
"You can buy anything in the world, but you can't buy time," Khaledi laments. "You can't buy 30 years."
For 2017, most of the 6000 Ashes & Diamonds cases will be made from purchased fruit, with the guiding hand of Matthiasson, whose day job when he's not making wine (or thrashing to "Rise Above") is working as a vineyard consultant.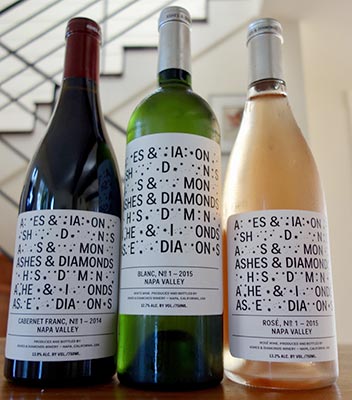 The most exciting Ashes & Diamonds wine I try is a 2015 Cabernet Sauvignon barrel sample from Andy Beckstoffer's Georges III Vineyard in Rutherford. Dubbed "Vineyard 1" on the label to avoid Beckstoffer's pricing demands for wines that use his vineyard's names, it smells like Cab Sauv, has good freshness, and while it has a deep, dark fruit aroma, is complex but not overpowering on the palate.
According to Matthiasson, it has 12.3% alcohol, which if printed on the label would be the lowest alcohol I have seen on a Napa Cabernet in many years.
"We're really trying to dive into what Napa Cab in the '60s and '70s tasted like," Matthiasson comments. "We picked it at 21.5 Brix [the 2015 average in Napa was 26, or about 15% ABV], but we let it get real hot at fermentation because they didn't have temperature control then. This wine's a time capsule."
"I don't drink hard liquor," Khaledi adds. "It gives me a headache. I like wine in spite of the alcohol. But we're trying to make wine that's yummy. We're not trying to push the envelope just to fit in the low-alcohol umbrella."
Ashes & Diamonds is making 11 different wines, which is like a band releasing 11 different albums (remember those?) — some will resonate more than others. And they're not cheap: Khaledi anticipates his prices to range from $25 to $125. He expects to open a tasting room later this summer, though, and his Napa Valley neighbors sell their wines for more.
"Here, they say a single-vineyard wine is like a beautiful girl who's sexy, but has a missing tooth," Khaledi concludes. "I find that sexy — it's the missing tooth that makes her interesting. This town is about perfection. But perfection does not exist. I appreciate the nuances that make wines unique."