In the wake of the New Year, it's customary to make well-intentioned resolutions. For me, it's about embracing adventure and pushing myself out of the "comfort zone."
About a year ago, I was in the process of moving to New York from Texas. Never one to keep things simple, in addition to selling a house, two cars, changing jobs and coordinating the cross-country move with two cats in tow, I decided that I needed to layer in more excitement and thus began my own quest for Wine Century Club membership.

Founded in March 2005 by Deborah and Steve De Long, the Wine Century Club (www.winecentury.com) was created to cultivate adventurous wine drinkers. The premise is simple: there are hundreds of wine varieties out there beyond the "big six" – also known as Cabernet Sauvignon, Merlot, Pinot Noir, Chardonnay, Sauvignon Blanc and Riesling – yet most people never travel beyond a relatively narrow range. Beyond personal discovery, the benefits to trying new wine types are significant. They include supporting the economics that allow indigenous local varieties to persist, as many of them are being uprooted and replanted with more popular grape varieties deemed more marketable, thereby endangering the often-rich local and regional history intrinsic to the grape and its terroir.
The Wine Century Club defines a few more ground rules: First, blends count, although for edification purposes I must say that it helps to try single-variety wines. Membership is free and on the honor system.
Risks are pretty minimal. What's the worst thing that can happen? That you wouldn't like the wine? Should that be the case, it wouldn't actually be all that bad. You would then have a starting place to begin describing what you don't like, which is sometimes easier than explaining what you do like.
By trying a number of different varieties, you can begin developing the ability to identify, in detail, aspects of a wine beyond red and white (and pink and orange; still and sparking, fortified…the list goes on). This is the key to the codex that will unlock a lifetime of wine-drinking fun and enjoyment.
Getting Started: Restaurants
My friends seem to think that I'm a wine wizard. I'm not. I most often look at a wine list and, based on my basic knowledge, order wine varieties that we've never heard of (hey, I had to get to 100 somehow!). But we all end up enjoying the wines thoroughly. Perhaps my friends are lulled into a false sense of ease, comforted by the idea that I know what I'm doing. The reality is that if I'm at a decent restaurant, I simply trust the wine manager or sommelier. If it's on the list, it must have some redeeming quality–and I'd like to figure out why they think so. New wine varieties also make for good conversation among the group, as everyone has different palates, perceptions, and has likely ordered different things on the menu.
There's another mercenary reason, as sommelier Levi Dalton recently discussed in his excellent piece about navigating a restaurant wine list, relating to the obscure varieties that the Wine Century Club promotes:
Rule Eight: Hard to pronounce is cheap, easy to pronounce is expensive

Over and over again one sees guests ignoring wines that they aren't familiar with because of the awkward names attached to the labels. Don't do that. Make a point of asking about wines that seem difficult to say. Often they are overlooked and neglected, when they could be telling you volumes about a native region and wine made in an authentic, traditional manner.
In other words, use your server – that's what they're there for. And if he or she isn't familiar with the wine list, ask for someone who is. And if no one at the restaurant knows anything about the wine list, just order a beer and revisit this plan another night, at another restaurant.
Getting Started: At Home
While internet ordering can often be easy, I recommend visiting a number of different wine stores, particularly at the start of this olfactory and gustatory journey. I love walking into a wine store and asking, "What's the most obscure/eclectic/interesting/fun/odd/challenging thing you've got?" Chances are you'll begin building an important and fruitful relationship with the proprietor or salesperson.
Start a dialogue – you might want to reference a price range, for instance – and give feedback on what you take home. At a good store, they'll start making recommendations based on what you like, and if you become a regular customer, you'll often be the first to hear about new finds. Remember, the Wine Century Club doesn't have to be a one-man or a one-woman show. People can help you along the way in this quest and frankly, it speeds up the process, too. You can learn a lot about retail stores in this process, and can hone in on your favorite and most trusted sources.
A Few Highlights
To very loosely paraphrase a noted wine critic, I've tried hundreds of wines, but unlike him, I don't remember them all. Besides, each variety can express itself in dramatically different ways, depending on so many factors, including winemaking styles, terroir, and beyond. In actuality, one shouldn't stop at one of each grape – it's just one step in a multi-layered discovery process.
Along the way, I have remembered a few. Some I noted because of the experience or occasion more than the exquisiteness of the grape itself. Others were memorable for pure novelty, for the aromas or flavors put forth, rather than just being "good" or "great."
Here are a few that remain emblazoned in my brain:
Dolcetto d'Alba – Found primarily in the Piedmont region of northwest Italy, the dolcetto grape typically exhibits black cherry, prune and licorice flavors with an often bitter, almond-like finish. The wines are dry and often tannic, and the dark purple skin of the grapes results in a deep, rich-colored wine.
Many wineries produce Dolcetto as their introductory table wine for customers to enjoy while the Nebbiolo and Barbera are being matured. It's a great wine to try a well-regarded estate's wine without breaking the bank. That's what I did – my first Dolcetto was a 2010 Dolcetto d'Alba from Roagna, richly-flavored, intense and lovely wine. While my pocketbook can't support broad exploration within their Barbaresco and Barolo collections, I benefit from their winemaking expertise and get a sense of what the winery is capable of – all for between $15-$20.
Frappato – Typically found in Sicily, this light red is somewhat similar to Sangiovese. But don't let "light" trick you into thinking it's simple – it's surprisingly complex with solid acidity, and not meant for those looking for an easy-drinking, eminently likeable wine. My first Frappato was a 2009 gem by winemaker Arianna Occhipinti, called simply, "Il Frappato." Biodynamically produced in the southeastern portion of the island, it has good red fruit flavors and also paired well with a variety of foods.
Lacrima di Moro –Rarely found outside of the town Morro d'Alba in the Ancona province on Le Marche's coast, this grape released stunning aromatics,  with expressions of violet, roses, lavender – pure loveliness. I seriously considered wearing it. However, the two examples I tried didn't really work for my palate, with a red fruit and pepper astringency that almost tasted (yes, tasted) like perfume. Not my favorite flavor, but it doesn't mean that you won't love it.
Romorantin – A French grape grown predominantly in the Cour-Cheverny area of the Loire Valley, it typically exhibits strong mineral flavors (think of licking a clean river stone). According to Wikipedia, DNA fingerprinting has shown that it is one of many grapes to be the result of a cross between Gouais Blanc (Heunisch) and Pinot fin teinturier, making it a sibling of famous varieties such as Chardonnay and Aligoté. My first Romorantin, Domaine de Montcy Cour Cheverny 2007, showed an intriguing, creamy, yet not fatty texture held together by bright structure, crisp green apple and tart citrus flavors, and the classic, elemental stoniness.
The Takeaway?
Some of us are guilty of drinking wine mindlessly at times. With a meal, during an after-work vent session with a friend, at a holiday party, or celebratorily toasting a special occasion. Trying something different can force a pause. It's not just another California Cab, it's an Aglianico, a Greek grape that can also be found in southern Italy. Learn a little bit about it. Find out why it is special. It's a story in a glass, worthy of a moment's contemplation.
For me, the Wine Century Club experience was about relinquishing control, in a small way. It was about letting go of knowing exactly how a wine will taste, and instead learning something new, in this case something as simple and complex as a grape.
A warning: there is some work involved. Even if you live in a bigger city and have access to less broadly-distributed wines, finding varieties isn't always straightforward. The grape variety isn't always listed on the label, and often isn't found on the internet without extensive searching. Depending on where the wine is from, varieties can even have substantive variations on spellings or monikers (i.e., zinfandel = primitivo). Sites like Wikipedia and ablegrape.com can be your friend in this exercise, but Jancis Robinson's forthcoming "big grape book," due out in October 2012 and written in collaboration with Julia Harding and José Vouillamoz, will be the true bible for those embarking upon this extended excursion.
The net/net: any trials and tribulations are well worth the experience. There are practical benefits: discovering new, affordable gems. For me, these include Picpoul Blanc, a tart, citrus-driven, refreshing white that is a nice alternative to Muscadet (itself made from the Melon de Bourgogne grape) and Nero d'Avola, a native Sicilian red that never ceases to delight with good acidity, strong tannins and a nice plummy finish. Both of these wines are more than suitable for daily drinking and keep life more dynamic than the "big six" can.
Wine Century Club applicants can go at their own pace, and make it even more entertaining by exploring grape variety thematically – say, by countries, or in collaboration with neighbors or friends.
Trying new varieties is a gateway into new regions, winemakers, indigenous grapes that have a rich history and merit, in their own right, even though not boosted by easy spelling, pronunciation, widespread cultivation or distribution. It's about wonder – what will it look, smell, taste like? What happens if I try it two days after opening? How does it change or evolve – for better or worse?
Wines can be like people. Each has a story, some more interesting than others. Some hold interest for a short while, perhaps out of pure novelty or eccentricity. Others linger longer, demonstrating depth of character, offering comfort or perhaps intrigue as they evolve over time, ultimately enhancing the life of those they touch.
Even if you're not the type to be motivated by adventure, self-interest should play a strong role in embarking upon this journey. Know what you like, and what you don't. But be open to surprise.
My wish for the new year: To keep pushing forth, whether it be into the next 100 varieties, or unearthing new expressions of the first 100. Never stop discovering, learning, questioning – in the wine world and beyond.
So let's all raise a glass to new experiences in the new year, with old friends and new. Who knows? Maybe the personal insights gleaned through the Wine Century Club process will translate into a broader, never-ending journey of self-discovery.
---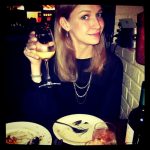 Katie can't pinpoint the moment at which she fell in love with wine—she just has, for as long as she can remember. Fortunately she found a way to professionally integrate her passions for wine, food, and travel with her overactive social tendencies and hasn't looked back since. After getting dual degrees in art history and international studies at SMU, Katie pursued a career in marketing communications, working with a number of business-to-business and consumer clients while at The Richards Group based in Dallas. She now works for Zebulon, North Carolina-based Nomacorc. She lived in Texas the longest, followed by Paris, France, then New York City, which she currently calls home. Katie can be found on Twitter at @KatieDrinksWine or perusing the streets of Manhattan in search of interesting food and wine adventures.