McGregor Vineyard, on the eastern shore of beautiful Keuka Lake in the Finger Lakes, generously contributed a case of their 2007 Cabernet Franc Reserve, retail value $300.00.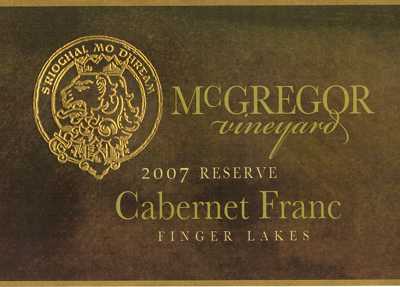 "A total of 9.28 tons of estate grown fruit was harvested by hand from October 31, 2008 to November 2, 2008. At this time, the grapes had 0.79-0.82 TA, 3.21-3.23 pH and 21 brix natural sugar. The grapes were destemmed and left to soak overnight. The juice was inoculated with yeast and fermented for six days and then pressed. The wine was then transferred into American oak barrels where it aged for approximately 19 months. The wine was then cold stabilized, filtered and then bottled on July 2 and August 21, 2009. At bottling the wine had a 0.58 TA, 3.55 pH, 0.0% residual sugar and 12.7% alcohol. A total of 386 cases were produced. This Cabernet Franc is an incredibly smooth, powerful wine and bursts with varietal character which I feel can be said about all of our 2007 red wine releases. It has a beautiful, vibrant color and its aroma is currently a nice mixture of cherry, spice and vanilla. The wine is medium bodied, soft on the palate and smooth tannins linger on the finish. This is an entirely enjoyable wine in its youth but will certainly be impressive for years to come." – John McGregor
Opening bid is $150.00. Minimum bid increment $10.00.
[How it works- Each auction lot will get its own post. As soon as it gets its own post, the auction is live. Once a bit of time has passed, and people really know about Wine for Haiti, lots will go live AND HOT. Every item will got "hot" if bidding reaches retail value.  Once hot, each lot is on a 24-hour cycle, ending at 10:00 p.m. Eastern Time. If a lot goes a full 24 hours, from 10:00 p.m. to 10:00 p.m., without a new bid, the last bid in the comments wins. If we get into a bidding war, with the same people going back and forth, one day at a time, we will post something in the comments of that Auction Lot and schedule a time to bid to the death, at a time mutually agreeable to everybody involved.]
For more auction Wine for Haiti auction items, please see the Wine for Haiti Auction Catalogue.