This bottle was the tremendously generous personal contribution of Tim and Bev Gallagher, of Carmel, Indiana. The Gallaghers have done missionary trips to the Caribbean and had friends doing the same thing in Haiti during the earthquake. Tim and Bev, thank you. This will help raise money to help. Retail value is $230.00. Bev, for those who have the opportunity to meet her, is absolutely delightful.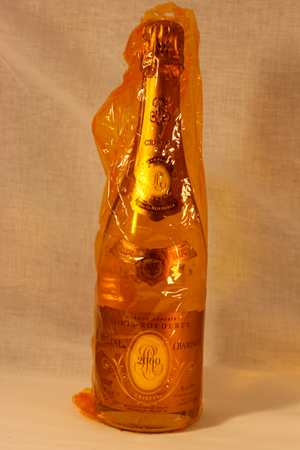 "Doughy toasted grain aromas. Tart lemon-lime flavors have a frothy mouth-feel. This is a young, energized, well-structured Champagne with bracing acidity that sweetens-up in the finish. $240." Wine News- 93 points
"Bright gold. Deep, subtly smoky nectarine and musky yellow plum aromas are energized by a suave mineral quality. Broad and fleshy, with deep, chewy pear, pit fruit and buttered toast flavors. A serious style, with velvety texture and excellent finishing punch. This has the concentration to repay cellaring but is open-knit enough to enjoy on the young side." Steve Tanzer- 92 points
"This goes for personality and finesse. An assertive, honeyed style, with plenty of citrus flavors. Mature coffee and roasted nut accents are peeking through, with a robust structure and a dried citrus aftertaste. Drink now through 2025. 32,000 cases imported." –BS, Wine Spectator- 91 points
Opening bid is $150.00. Minimum bid increment $20.00.
[How it works- Each auction lot will get its own post. As soon as it gets its own post, the auction is live. Once a bit of time has passed, and people really know about Wine for Haiti, lots will go live AND HOT. Every item will got "hot" if bidding reaches retail value. Once hot, each lot is on a 24-hour cycle, ending at 10:00 p.m. Eastern Time. If a lot goes a full 24 hours, from 10:00 p.m. to 10:00 p.m., without a new bid, the last bid in the comments wins. If we get into a bidding war, with the same people going back and forth, one day at a time, we will post something in the comments of that Auction Lot and schedule a time to bid to the death, at a time mutually agreeable to everybody involved.]
For more auction Wine for Haiti auction items, please see the Wine for Haiti Auction Catalogue.