Opening a bottle of sparkling wine can be scary—here's how and what to open.
In the US, a lot of us are afraid of Champagne. We say we want to drink Champagne, we think we want to drink Champagne, but when someone hands us a bottle, we're petrified. I have literally had this happen in a seminar: someone refusing to even hold a bottle of Champagne for fear… what? That the Champagne would find out they didn't know much about wine? That they weren't that sophisticated? Or that they somehow didn't deserve Champagne? Probably all of the above.
I wanted to say, "Get over yourself," but didn't think that was appropriate since I was the leader of the seminar. Champagne can be intimidating not only because it can be expensive, but also because few of us know how to open it.
Having identified these basic issues—opening and pricing—I'd like to offer solutions: two other first-class French sparkling wines from near Champagne that cost around $20; and an easy description of how to open a bottle.
How do you open the bottle of sparkling wine, now that you've procured it? Is it really worth the trouble? Absolutely! You're a hero to the rest of the guests, and you get to enjoy the fruits of your labor, too.
First, have the sparkling wine well chilled, and place the champagne flutes nearby. Wrap a dishtowel around the bottle if it's wet or slippery. Point the top away from people and breakable stuff. Tear off the foil covering the cork. Unscrew the little wire cage—usually 6 turns of the wrist—being careful to keep one hand on the cork in case it starts to move.
Keep holding the cork with your left hand, but begin to pull it out gently. Turn the bottle with your right hand until the cork starts to slide out slowly. You should hear a little "whoosh" as the cork exits. (Not a loud pop, unless you've shaken up the bottle because you're planning to cascade it all over someone in a locker room). Pour, sip and smile—you did it!  Watch the video HERE.
Two Great French Sparkling Wines

Called Crémants, extremely good sparkling wines from Alsace and Burgundy in France will range from crisp, light and lively to medium bodied, with a hint of fruit that pairs w
ell with many foods. Both regions have long histories of producing sparkling wines—over 100 years.
The first time I had sparkling wine from Alsace, the wine region southeast of Champagne, I was astounded: it was light and crisp, yet with a touch of fruit. It held its own against the region's first courses, which tend toward strong flavors like cured meats and cheeses. I couldn't image why everyone wasn't drinking it here. Well, it took a few years for production and demand to build in the US.
Crémant d'Alsace can be made with a blend of Alsatian grapes—Pinot Blanc, Pinot Noir, Pinot Gris and Riesling—or from one of the Alsatian grapes on its own. Chardonnay grown in Alsace can only be used for sparkling wine. Of the many styles of Alsatian sparkling wine, brut (dry) is now most popular. In this region, the white sparkling Blanc de Blancs tends to be made with only Pinot Blanc, while the Rosé sparkling is made with only Pinot Noir. During the last few years I have seen a major increase in the availability of Crémant d'Alsace in the US. Not only has production in Alsace doubled, but there is now 30 times more Crémant d'Alsace exported to the US than there was 30 years ago.  A few of the more popular names imported now are Willm, Pierre Sparr and Lucien Albrecht. But  don't just stick to these; it's worth trying others when you find them.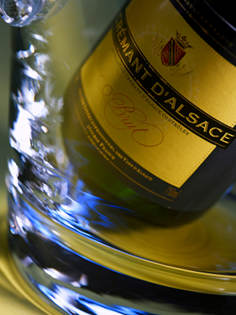 Winemakers in the Burgundy region, just south of Champagne, also use the main Champagne grapes—Chardonnay and Pinot Noir—in their sparkling wines. Crémant de Bourgogne is becoming more available in the US each year. Formerly, all sparkling wines in Burgundy were known as "Bourgogne Mousseux" then Burgundy's Crémant category was created in 1975. It has taken another several decades of vast improvement in quality for this sparkling wine to gather enough momentum so that imports into the US have begun to rise steadily. In the US, among the most widely available Crémant producers from Burgundy are Louis Picamelot, Simonnet-Febvre and Louis Bouillot but we're seeing new labels each year so you may discover another  wonderful Crémant de Bourgogne in your local wine shop at any time.
Both the Bourgogne and Alsace Crémants are AOCs (Appellations d'Origine Contrôllées or quality-controlled appellations) which means the vineyards, grapes, yields, harvest and production methods are strictly regulated. Currently, more and more of the beautiful salmon-pink and light red rosé sparkling wines are being produced, to keep up with increased demand.
Spend some time mastering these white and rosé Crémants over the holidays, and you'll be ready for the next step in your sparkling education.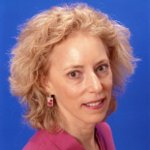 — For the past 20 years Becky Sue Epstein has been covering food, wine and spirits for local, regional and national publications on both coasts, from Art & Antiques and Luxury Golf & Travel to Food + Wine and Wine Spectator. She began her career as a restaurant reviewer for the Los Angeles Times while working in film and television during the 1980s and early 1990s. In between trips and events, Epstein writes books. Her latest, The American Lighthouse Cookbook, was published in September 2009 (Sourcebooks/Cumberland, co-written with Chef Ed Jackson). She is currently working on Champagne and Sparkling Wine: A Global History (Reaktion, pub. date tbd).