Paul Greico, proprietor of several Terroir wine bars in Manhattan and the self-proclaimed "Overlord of Riesling," is resting comfortably in Mt. Sinai Medical Center tonight after a series of bizarre events.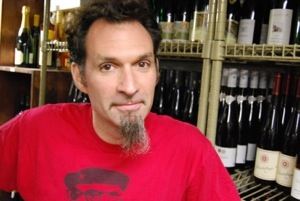 The trouble began—as is so often the case these days—on Twitter. Greico, whose Twitter handle is @spitpaul, tweeted this morning: "Just can't take it anymore. Joining the NRA. That's right, the N-freakin'-R-A."
By mid-afternoon, the managers of all three Terroir locations realized that not only was Greico unreachable by cell phone, but also he had never shown up at any of the wine bars that day. So they called the police. No sooner had the desk sergeant explained that the minimum time frame required to file an MWP (Missing Wine Person) report was 48 hours than 911 dispatchers received a frantic call about a "scary looking dude" traversing the main hall of Grand Central Terminal intimidating commuters and tourists with "crazy talk."
By the time police arrived at Grand Central, Greico—sporting his signature, somewhat sinister chin-only beard—was perched precariously atop the clock at the hall's main information booth. According to witnesses, he ranted: "There is no 'i' in terror. But there is in 'terroir.' I am the new face of the NRA—the National Riesling Association. There will be no more talk of Riesling as being sweet. Long live trocken! Long live the finish! Long live the complete viticultural and moral superiority of Riesling, the noblest grape of them all! Beh-heh-heh-heh…."
Just then, say witnesses, the celebrated sommelier jumped down from the information booth, reached into his trench coat and pulled out what appeared to be a weapon. At first thought to be a semi-automatic rifle, the "weapon" in fact was a plastic Super Soaker. But when Greico spun wildly and began squirting people within a 12-foot radius, panic ensued: people were certain that the liquid was some sort of chemical agent. Cries of "Acid attack!" filled the public space.
Greico managed to empty the entire tank of his gun before being surrounded by police. As fate would have it, a U.S. Marine who patrols Grand Central Terminal had been caught directly in Greico's line of fire. As he was wiping the liquid from his face, the soldier suddenly recognized its true nature: it wasn't acid, it was merely exhibiting an abundance of acidity—a telltale sign of fine Riesling, not unlike those he had come to love while on a tour of duty around Europe.
With Greico carrying on about "the tyranny of overoaked Chardonnay, the erstwhile fraud of high-alcohol, 'highly rated' Cabernet and abject ignominy of tutti-frutti red blends," the city cops were convinced they were dealing with a psychopath. Greico was promptly thrown to the floor and cuffed. Fortunately, according to witnesses, the Marine convinced his fellow keepers of the peace that the Super Soaker was filled with white wine, not chemicals.
That didn't stop the city cops from dragging the erstwhile terroirist toward the closest exit. And it didn't stop Greico from shouting, "Damn straight it's wine! It's a Wehlener Sonnenuhr 2007 Riesling!"
En route to the precinct station, when Greico began babbling about "loess and loam, granite and greywacke, sandstone and slate," police decided to take him straight to Mt. Sinai, rather than a holding cell. Physicians examining Greico found him to be in perfect physical condition, despite an apparent obsession with alliterative soil types. Given the circumstances, however, not to mention the throng of paparazzi waiting outside the hospital, the decision was made to hold the volatile if erudite wine pro in custody for observation.
And indeed, Greico soon showed signs of becoming calmer. That is, until a nurse overheard him mumble, "Riesling in kegs will be the salvation of our nation…." Psychiatrists were immediately called in for a re-evaluation.