Most people can confidently pair wines with seafood, meat, or pasta—but pairing wines with salads can put even an avid wine drinker into a quandary.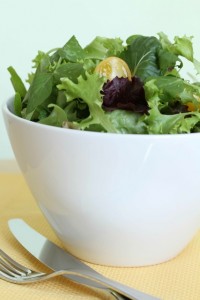 With the warm weather upon us, salads are about to take up more room at the dinner table. If you're stumped about what wine to serve with your salad, you'll be pleased to know that many wines lend themselves beautifully to this often underappreciated course.
Salads are an essential part of my daily diet. I cannot let a day go by without devouring a huge bowl of fresh greens, and you can be certain that I always pour a lovely wine to sip between voracious mouthfuls.
Here are three of my favorite salads, with wine suggestions that should make your summer meals a tasty affair.
The all-year, all-occasion leafy green salad
This salad is like the little black dress or the crisp white shirt. You can dress it up by tossing it with an exquisite aged balsamic vinaigrette and plating it; or you can dress it down and serve it family-style in a generous bowl with a more casual mustard vinaigrette. Either way, I like to dot it with colorful yellow or red cherry tomatoes and sometimes a few pine nuts.
The most important ingredient, of course, is the greens themselves. They have to be absolutely fresh. So I vary them throughout the year, picking what's in season. In the spring, I get baby greens such as arugula, green and red mustard, pea shoots, and tender lettuces from the farmer's market. In the summer, I switch to baby romaine and curly oak leaf lettuces, which are both more resistant to the summer heat. In the fall I serve a mixture of frisée and endives or a medley of baby kale, minzuna, and tatsoy, while in the winter I rely on hydroponic Boston lettuces and watercress.
Wine suggestions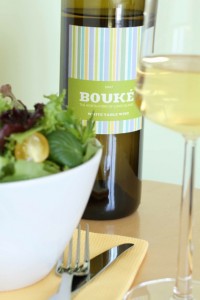 Both vinaigrettes for the leafy green salad have a good amount of acidity, so I recommend a crisp white wine with balanced acidity, forward citrus notes, round stone fruit flavors, and a hint of minerality. The citrus notes harmonize with the acidity of the dressing without accentuating it, while the stone fruitso ffer a counterpoint and keep the acidity of the vinaigrette in check. These two elements become the perfect frame for your salad. Wines with these qualities include Sauvignon blanc, unoaked Chardonnay (Chablis), Vermentino, Pinot gris, Albariño, Robola, and Grüner veltliner.
Viviane's pick
2008 Bouké Wines White Table Wine – The North Fork of Long Island, New York ($19)
This lovely and impossibly easy to drink white wine is a blend of chardonnay, pinot grigio, sauvignon blanc, and gewurztraminer. Stainless steel aged, it exudes tropical fruits, orange blossom, bergamot notes, and a hint of honey. All those flavors pair marvelously with our leafy green salad.
Everyday Green Salad
Served with Aged Balsamic Vinaigrette or Mustard Vinaigrette
serves 4
For the balsamic vinaigrette
1 tablespoon aged balsamic vinegar (preferably 22 to 25 years)
3 tablespoons extra virgin olive oil
1/8 teaspoon sea salt
freshly ground black pepper to taste
For the mustard vinaigrette
1 tablespoon sherry vinegar
1 teaspoon Dijon mustard
3 1/2 tablespoons extra virgin olive oil
1/8 teaspoon sea salt
freshly ground black pepper to taste
For the salad
2 large handfuls (6 oz.) seasonal baby greens, rinsed and spun dry
1/2 pint yellow or red cherry tomatoes, halved
2 tablespoons pine nuts (optional)
freshly ground black pepper to taste
Step 1: To make the vinaigrette of your choice — Place all ingredients in a small bowl and whisk until well blended. Set aside.
Step 2: Place the greens in a large mixing bowl. Add the vinaigrette and toss until all the leaves are well coated. Transfer to a serving dish to serve family style, or plate in individual bowls. Garnish with the tomatoes and pine nuts. Sprinkle with black pepper and serve.
• • •
Heirloom tomato caprese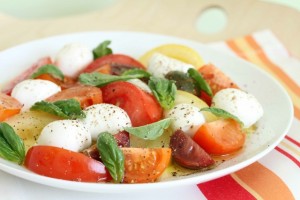 Because I'm a seasonal fanatic, I refuse to make this salad at any other time of the year than when heirloom tomatoes are in season—even though I've been known to lust over it in mid-January. I'll admit that I'll extend the season a bit if I find local greenhouse tomatoes, but that's the only exception I ever make. So every year, from late June until mid-October, I'll make this salad at least once a week.
Perfectly vine-ripened tomatoes are sweet rather than acidic, and when they're served with melt-in-your-mouth handmade mozzarella and a spicy olive oil, they command the attention of your tastebuds; mine are prone to do summersaults without any encouragement whatsoever. Which leads me to the wines…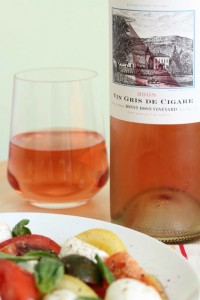 Wine suggestions
This one didn't even require a millisecond of thought—sweet, ripe tomatoes and rosé are a match made in heaven! But the rosé needs to be bone-dry, with round fruit notes and a clean finish. Think rosés made with Southern Rhône and Italian varieties such as syrah, grenache, mourvèdre, cinsault, carignane, and sangiovese.
Viviane's pick
2008 Bonny Doon Vineyard Vin Gris de Cigare – Santa Cruz, California ($15)
I will confess I am partial to Bonny Doon's wines, but the 2008 Vin Gris de Cigare is one of the finest rosés I've tasted. I keep several bottles well chilled at all times. A blend of grenache, cinsault, roussanne, mourvèdre, syrah, and grenache blanc, it is perhaps untypical of a Southern Rhône rosé since two white grapes (roussane and grenache blanc) have found their way into the blend, but to me the 2008 Vin Gris de Cigare is a quintessential rosé. Crisp and light yet round in the mouth, the strawberry and summer fruit notes harmonize with the sweetness of the tomatoes, while the citrus notes and crispness of the wine cut through the richness of the olive oil. You'll keep sipping this one long after you've licked your plate clean.
Heirloom Tomato Salad with Bocconcini and Basil
serves 4
2 medium red heirloom tomatoes, cut in 1/4" slices
1 medium yellow or orange heirloom tomato, cut in 1/4" slices
1 medium green heirloom tomato, cut in 1/4" slices
1/2 pint mixed heirloom cherry tomatoes or husk tomatoes
1 lb bocconcini (baby mozzarella balls), drained on paper towels
extra virgin olive oil
1/2 cup small basil leaves
sea salt and freshly ground black pepper to taste
Arrange the tomatoes and bocconcini into 4 plates. Drizzle lavishly with olive oil. Sprinkle with salt and pepper. Garnish with the basil and serve with sourdough or Italian country bread.
• • •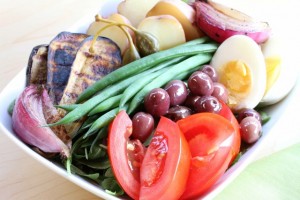 Salade Niçoise
When a salad graduates from an afterthought to a showpiece, chances are you're talking Salade Niçoise. Packed with flavor, it's a light but complete meal that also sticks to your ribs. It's perhaps my favorite dish to have on hot days. Here I take the classic Provençal dish and serve it with roasted vegetables and a basil vinaigrette—all in celebration of summer's exuberant flavors.
Wine suggestions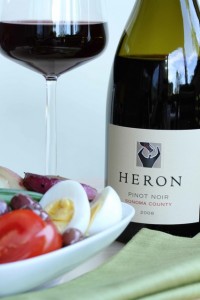 You might think a red would be an outlandish choice to serve with a salad, but if there's a salad that demands a red wine, it's Salade Niçoise. Try a light red such as Pinot noir, Chianti, Bardolino, Beaujolais, Beaujolais-Villages, or Rioja-Crianza. The wine must be light and round, with red fruit flavors and soft tannins; on hot summer days, it can be even be served slightly chilled (60ºF).
Viviane's pick
2008 Heron Wines Pinot Noir – Sonoma County, California ($15)
Deep ruby red with ripe fruits and plum notes, this is a classic California Pinot Noir. Light, flavorful, and beautifully balanced, the Heron Pinot Noir picks up on the savory flavors of the caper berries, olives, and vinaigrette while feeling right at home with the grilled vegetables. Owner and winemaker Lealy Heron's motto might well be "less is more," but in my case, I just want more of this well-priced and addictive Pinot.
Niçoise Salad with Grilled Vegetables
Served with Basil-Mustard Vinaigrette
serves 4 to 6
For the vinaigrette
2 tablespoons red wine vinegar
1 tablespoon Dijon mustard
1 shallot, skinned and quartered
12 large leaves fresh basil
1/2 cup extra virgin olive oil
sea salt and freshly ground pepper to taste
For the grilled vegetables
4 baby eggplants (cut in 1/4" slices lengthwise)
1 medium red onion, peeled and cut in 1/2" slices through the root end so slices stay attached together
1 teaspoon balsamic vinegar
2 teaspoons extra virgin olive oil
salt and pepper to taste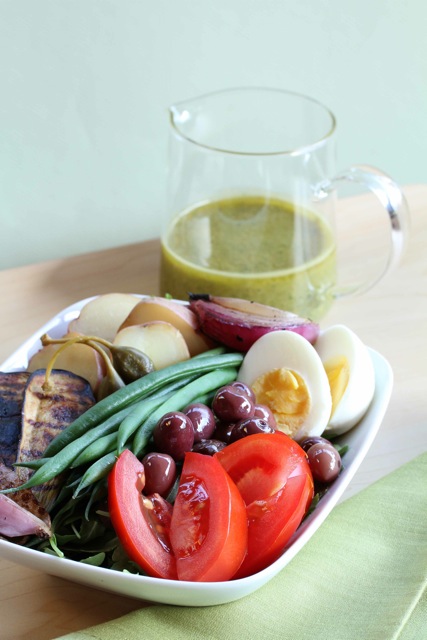 For the salad
1 large handful baby arugula (3 oz.), rinsed and spun dry
1 1/2 lbs baby red potatoes, unpeeled, boiled until tender and halved
1/2 lb haricots verts, stem ends trimmed and left whole
2 ripe medium tomatoes, cut in 1/2" slices
4 to 6 hard boiled eggs, peeled and halved
1/2 cup Niçoise olives
1/3 cup large caper berries, drained
freshly ground pepper to taste
Step 1: To make the vinaigrette – Place all ingredients in the bowl of a food processor and process until the basil is finely chopped and the vinaigrette well blended. Transfer to a bowl and set aside.
Step 2: To grill the vegetables – Pre-heat a gas grill to high or prepare charcoal grill. Lightly brush the eggplant slices on both sides with olive oil. Sprinkle with salt to taste and grill until grill marks appear on all sides. Transfer to a tray and set aside.
Step 3: For the onions – Place the onion slices in a bowl. Add the vinegar, oil, salt and pepper. Toss carefully, taking care not to break the slices apart, and transfer to a perforated stainless steel pan. Grill until charred. Transfer to a bowl and set aside.
Step 4: To assemble the salad – Spread the baby arugula on a large serving platter. Top with the grilled eggplant, grilled onions, potatoes, beans, tomatoes, eggs, olives and caper berries. Serve with the vinaigrette on the side.
Cook's note: One a side note, although my Niçoise is fishless, grilled tuna steak would be a great addition to it.
---

A native of a French island in the South Pacific, Viviane Bauquet Farre publishes food & style, showcasing innovative recipes inspired by seasonal ingredients and local farmers. She has appeared in and contributed to several regional publications, and her recipes have been featured in Bon Appetit, Vegetarian Times, and Saveur (which crowned her site one of the "Best of the Web"). In addition to her food writing, photography, and videos, Viviane also hosts the private no bones! dinner club in New York City, festive evenings overflowing with beautiful, creative dishes paired with unique wines.