Moving to the Willamette Valley in Oregon, I fully expected to be surrounded by heavenly coffee, fantastic food, killer microbrews, and world-class Pinot noir. Lots of Pinot noir. What I did not expect was to discover a thriving scene of locally produced spirits and liqueurs. A recent trip to Portland's Distillery Row with some friends opened my eyes to a whole new world of hard drinking.
While I'm no expert on spirits—or much else for that matter—I have picked up some understanding of distillation while geeking out in my wine studies. The basics, as I've come to understand them, are that you can take pretty much any fermentable product and distill it by boiling, then collecting ethanol-rich portions of the alcohol vapor to get a high proof spirit.
During the distillation process, the alcohol vapors condense from the boiled starting liquid, or wash. However, some of the alcohols derived will do more to make you go blind than to ensure a good time. So distillers test and track the progress of their product, sectioning the vapors into three grades: heads, hearts, and tails. Heads, like methanol, can be dangerous. Tails are closer to water than anything else. For good-time purposes, it's all about the hearts.
Visiting three of the distilleries in southeast Portland, my small group of friends and I found that the vapors were just one form of heart in the process. There was plenty of sampling along the way and lots to learn, with each stop offering a wildly different experience. Portland distillers are nothing if not a diverse bunch.
We started our tasting day with the knowledgeable Matt Mount, a distiller at House Spirits. The tasting room walls were lined with stout glass bottles of elixirs with meticulous labels, sealed with colorful waxes. Before tasting, we received a lesson in distillation, stepping out into the bright sunlight to head into the adjacent distillery.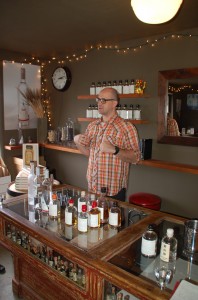 Showing off the stills, Matt detailed the history of House Spirits, which was started by Lee Medoff and Christian Krogstad. Both worked for Edgefield, part of the local McMenamin's empire, where they started the distillation program. They founded House Spirits in 2004 after realizing that Oregon was a prime location for whiskey production, given the excellent water available and temperate climate that was friendly to the distillation process. They didn't start with whiskey, though, but vodka, one of the easiest spirits to produce; their Medoyeff Vodka was styled after Russian libations meant to be consumed on their own or with food.
Next they produced the Dutch-inspired Aviation Gin, a botanical bricolage crafted to be a go-to cocktail component, and a Swedish-influenced Krogstad Aquavit, with rich anise and caraway flavors—like rye bread in liquid form. Later, in 2008, they started an apothecary line. Here at last they introduced whiskey, as well as myriad other delights, always focusing on limited quantities to allow flexibility.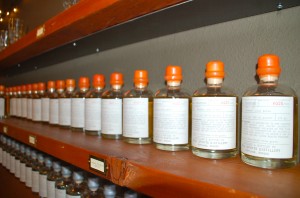 Back at the well-worn tasting bar, we noted that the apothecary bottles that lined the walls included whiskey, rum, ouzo, and a not yet released double-distilled shōchū. We limited ourselves to six spirits: the flagship Medoyeff Vodka, Aviation Gin, and Krogstad Aquavit; plus a Gammel (aged) Krogstad, one of the rums made from turbinado and Barbados molasses, and the shōchū.
Matt gave us excellent tasting advice: always swallow a little. Contrary to the popular practice of wine slurping and spitting, he insisted that feeling the spirit go down was part of the experience. He was absolutely right. My spirit evaluation naïveté hindered my notetaking, but everything was enjoyable.
The rum stuck out as a favorite: Bottle No. 107 (out of 400) was adopted and given a loving home.
An industrial feeling pervades Portland's east side. The low brick buildings with high-set windows don't afford any view from the street level. The squat structure housing New Deal Distillery is no different, except it has been painted a cheery pistachio green.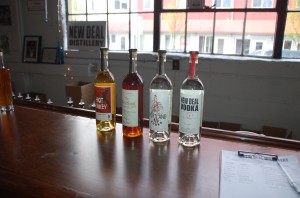 Inside we met owners Tom Burkleaux and Matthew VanWinkle. With backgrounds in computer programming, they started New Deal in 2004 after becoming tired of buying what they called "yuppie vodka." They couldn't understand why there was no vodka made in Portland when there was so much locally produced wine, beer, coffee, fruits, and vegetables—really all manner of goods.
Tom, somewhat guarded and camera shy, said they decided to take a DIY approach and create locally made, affordable vodka. So, with goading from friends, New Deal became Portland's first vodka distillery.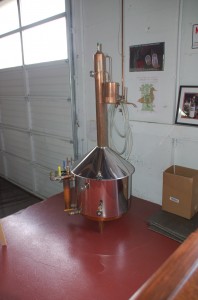 Their first batch was purportedly filtered through a home aquarium (no fish were harmed). Near their tasting bar they display their first baby still, but now the distillery is home to a range of stills, vats, and other scientific looking equipment. Sourced from New Zealand, a row of steel-barrels-turned-stills lines the far wall, wrapped with insulating jackets. The entire manufacturing process takes place in a large studio-like space, including hand bottling and labeling.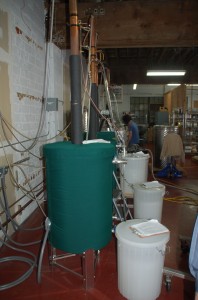 Staying true to the Portland mantra to "buy local," Tom and Matthew make a point of using local ingredients when possible. This includes everything used to ferment and flavor the spirits. Even the water is local, sourced from the Bull Run Reservoir, fed by the melt-off from Mt. Hood looming to the east.
Tom tasted us through some of their flagship spirits, including the New Deal Vodka, the Mud Puddle Chocolate Vodka (bitter, not sweet), and another special vodka infused with southwestern chilies they call Hot Monkey. This last packs a wallop of heat and was great mixed with pineapple juice.
Tom needed to dash away to an appointment, so Matt—definitely the more gregarious of the pair—took over our tasting. He guided us through two additional labels of sweet and flavorful organic liqueurs New Deal was making for LOFT Organic Liqueurs and J. Witty Spirits. These were all intensely flavored using wholly organic, natural ingredients including lemongrass, tangerine, lavender, spicy ginger, and chamomile.
They were tasty, but that Hot Monkey yearned to be mixed with tropical fruit juice and sipped on a hot summer day—so home it came.
We walked just a few blocks up SE 9th Avenue to Integrity Spirits, perhaps most widely known as the second American distillery to produce Absinthe after the ban was lifted in 2007, though they do produce other liqueurs. I'm a fan of that opaque, herbal draught, so was anxious to visit. I had called earlier that day to make an appointment, receiving a very enthusiastic yet ambiguous affirmation: "Oh yeah, come on by. We'll probably be here."
This should have been an indication that our experience was going to be relaxed, but that puts it mildly. In fact, there was a moment—or maybe several moments—of trepidation as we found our way into the distillery, walking down a hallway lined with oak casks secured behind ceiling-high chain-link topped with barbed wire. There was a group of somewhat unsavory looking characters hanging out and smoking around a small bar. We were skeptical about whether this was even the right place.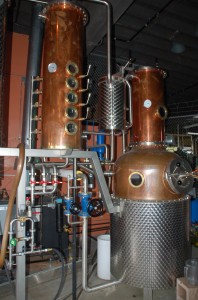 Though Rich Phillips and his friend Kieran Sienkiewicz grew up together on Kieran's family vineyard, the two found different paths in the booze business. Rich, a veteran guitar amp builder, was the manager of Uptown Liquor, and his initiation to distillation was simply due to boredom. Kieran worked as the distiller and brewer for Rogue Spirits, and the two men joined to create Integrity in 2007. The house operates three main stills, one of them a huge, elaborate, German-built contraption that looks like something an Oompa Loompa might operate.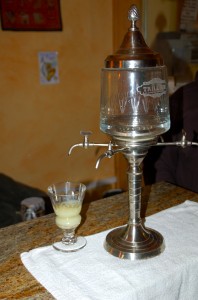 Rich, I realized, was the person who'd taken my call that morning. He invited us in and urged us to belly up to the bar for a sampling; he'd clearly been sampling as well—checking for the elusive hearts perhaps? It's a tough job, but someone's got to do it. We tasted gin named for the twelve bridges of Portland, plus a hazelnut Lovejoy Vodka. (Mr. Lovejoy was the guy who had wanted to name our town Boston instead of Portland, but lost the legendary coin toss.)
Finally we tasted the Trillium Absinthe Supérieure. Soft green and clear, there's one hell of a story behind the production of the bottle and its screen-printed label—let's just say it cost a lot of cash. Rich poured a glass and drizzled it with some water, gradually making it cloudy, and then we passed the cup, sipping the intense herbal, anise-flavored spirit. After two passes, my friends and I bartered Rich for a bottle based with what cash we had left between us.
Stepping back onto the street, I think we all had a general feeling of relief, but also an exhilarating amusement from what was definitely the most interesting stop of the day. And with good sauce in hand, no less.
• • •
Meeting some of the folks behind these operations gave us insight and appreciation for their craft. And the ideal of shared success that emanates from the Willamette Valley wine community clearly extends to this little hamlet of hooch in Portland. All three of these producers, as different as they might be, have one thing in common: a passion for what they do. You can share this passion, creativity, and dedication—and maybe even have a good time. They're certainly putting more than just the hearts into their bottles.
[author] [author_image timthumb='on']http://palatepress.com/wp-content/uploads/2012/05/ryan-reichert.png[/author_image] [author_info]Having grown up in the midwest, Ryan Reichert followed his passion for wine to the Willamette Valley region of Oregon. Always the explorer seeking to learn more he has travelled around the United States and through France, Spain, and Italy. He holds the Advanced Certificate with Distinction from the Wine & Spirits Education Trust, is a French wine enthusiast, a certified Spanish Wine Educator, and is working towards certification as a sommelier with the Court of Master Sommeliers. Ryan is the creator and author for Northwest Whites, a site dedicated entirely to the white wines of the Pacific Northwest. You can also learn more about Ryan on his personal website. Ryan lives in Portland, OR.[/author_info] [/author]