With all the buzz around California's 2013 harvest, it's easy to forget that 2012 was pretty spectacular as well –and it's hitting the wine shelves now.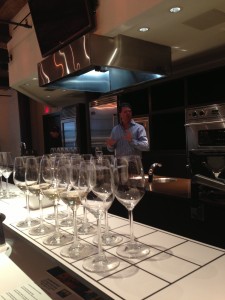 "2012 was a Goldilocks vintage," said Alder Yarrow of Vinography and JancisRobinson.com fame, who presented the 2012 vintage, earlier this fall, in New York City, on behalf of the Wine Institute of California. "Everything was 'just right.'"
The 2012 vintage is really exceptional in many ways. Unlike the 2011 vintage, which saw lots of rain (resulting in rot) and required an enormous amount of grape selection in the vineyard, the 2012 vintage was essentially perfect from start to finish. On average, harvest volumes were up 80% over 2011 yields and averaged 30-40% more grapes than normal.
As Yarrow presented it, there are really five variables that shape a vintage. The first two are the nature of winter and the amount of moisture imparted to the vines. 2012 was a mild winter, a little drier than normal, but set things up for good growth in the spring.
The next is how spring unfolds. Again, the weather throughout flowering was mild, and it was relatively warm by the time fruit set.
Summer temperatures were consistent with a lack of heat spikes, which allowed for a steady and relatively uniform ripening season.
The last variable: harvest weather. While it varied in parts of the state, in general, the warm summer accelerated harvest as grapes matured more evenly, in a short span. For example, Paul Draper at Ridge usually harvests his iconic Monte Bello over the course of four to five weeks. In 2012, they harvested the whole lot in 10 days.
Whites
White wines from 2012 are hallmark examples of what to expect from California wines – fruit-forward Sauvignon Blancs (represented by Fiddlehead "Goosebury" from Santa Barbara) and full-bodied, oaked Chardonnays (represented by Laetitia Estate Chardonnay from San Luis Obispo and Mt. Veeder Chardonnay from Napa). A standout at the tasting was J.Lohr's Viognier from their Rhone program ($25, online and tasting room only), with good acidity and judicious use of third- and fourth-fill oak. Because 2012 allowed for a longer hang time in the vineyard and slower ripening (enabled by cooler nights offsetting the intensity of Paso Robles' daytime heat) the 2012 wine exhibits more delicate lychee and honeysuckle characters.
Reds
While it will be another one to two years before we begin to see most reds in bottle, some Pinot Noirs are ready and barrel samples are already starting to reveal the dynamism of what is to come.
The Pinot Noir samples tasted – one finished wine (Dutton-Goldfield Dutton Ranch, Emerad Ridge Vineyard Pinot Noir, Green Valley of Russian River Valley, Sonoma; bottled 6-8 weeks previously) and one barrel sample (Bernaudus Vineyards Pisoni Pinot Noir, Santa Lucia Highlands, Monterey) – showed lots of red fruit, and while vinified very differently, showcased the plushness of the grapes.
Blends, well-represented by a Ridge Monte Bello barrel sample (64% Cabernet Sauvignon, 22% Merlot, 8% Cabernet Franc, 6% Petit Verdot), showed an incredible complexity with the same balance between ripeness and acidity. This is magnified by Draper's non-interventionst winemaking approach, which allows the clean, beautiful fruit to demonstrate its inherent attributes. The sample showed a remarkable amount of extract without heaviness. Yarrow said that winemaker Draper deemed the 2012 Monte Bello, often referred to as the Grand Cru of California, as the single greatest Monte Bello that he has ever made since he started producing it in 1970.
A barrel sample of Cabernet Sauvignon-dominant wine from Livermore Valley (Steven Kent Winery "Lineage" Bordeaux Blend) showed primary flavors of fresh prune and herbal aromatics contributed by the 20% Cabernet Franc. Dry-farmed old vine Zinfandel from Lodi (Lange Twins) showed finesse and spice as opposed to overripe fruit.
"The wines from the 2012 vintage really show what you can get when a winemaker gets to take his best swing at it, to use a baseball analogy," said Yarrow. "If a winemaker didn't make a good wine in 2012, he should just pack up and get out of the business."