I'm not going to lie, before heading to western Sicily earlier this month I had my reservations. There seemed to be a prevailing opinion on the region reflected in comments like, "enjoy those volcano wines," to "does Sicily even make quality wine yet?" to "you'll just find lots of bulk there. But it's sure pretty."  Not much optimism there.
However, as I was leaving for my visit, my own hometown, Portland, OR, was prepping for an ice storm. Obviously I was excited about exploring this new-to-me region, along with its warm weather. I set off with an open mind and ready palate.
Arriving into Palermo, on the northwest tip of the island, we immediately headed south, over hills where I observed more cactus than lush green trees that I'm used to elsewhere in Italy, and into the arid region of Agrigento in search of wine. Though our trip was focused, with just a small number of producer visits in the southwest portion of the island, it became clear to me that one didn't need to look far to experience the quality that indeed exists in this region.  In fact, one needs to look no further than Donnafugata to get a clear sense of the quality and bright future of western Sicilian wines.   But first, it took an understanding of the scope of the island to understand its importance to Italy and the world.
Sicily is the largest island in the Mediterranean, and the largest viticultural area in Italy, with over 112,725 hectares (278,550 acres) planted (roughly 15% of all Italian plantings).  And though the island is most famous for the red nero d'avola, white wines account for a majority of total grape production, with catarratto leading the way.
The western part of the island has more exposure to the harsh sea, resulting in high coastal winds.  These winds keep the air clean and vines protected from pests, and the temperatures cool, especially in the evenings, during the island's hot sunny summers. They also contribute to the freshness, minerality, and high acidity you'll find in the wines.
During my visit daytime temperatures were still in the 60's and 70's with plenty of bright sunshine, cooling off significantly by the evening, helping me to appreciate the long growing seasons and ability to grow such an array of grapes. Though in the past the region's reputation was bulk not quality, things are quickly changing, thanks to a handful of producers, like the Rallo family of Donnafugata.
Donnafugata
The history of the Rallo winemaking family dates back five generations to 1851, but it wasn't until 1983 where Donnafugata came into the picture.
4th generation winemaker Giacomo Rallo and wife Gabriella inherited two family wineries in western Sicily.  The couple was convinced that these properties in Marsala and Contessa Entellina could be used to produce quality still wine at a time when the region was mostly Marsala (a fortified wine) and bulk wine production.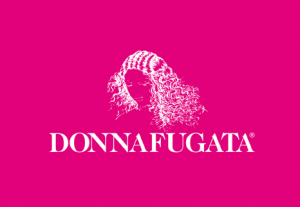 The Donnafugata logo, a woman's head with windblown hair, was inspired by the story of Queen Maria Carolina, wife of Ferdinand IV of Bourbon, who sought refuge  from Napoleon's troops in the part of Sicily where the winery's vineyards now stand. The name Donnafugata means "woman in flight."
"This idea represents my mother, and my family. The 'escaped woman' was my mother by escaping the status quo during a time when the industry wasn't very kind to women," explains Josè Rallo, daughter of Giacomo and Gabriella.  Today Josè and her brother Antonio, the fifth generation, run the family business.
"My parents are visionaries.  They make an explosive couple," says Josè Rallo, of her parents, founders of Donnafugata.
In 1989 they extended their production to the nearby island of Pantelleria with a focus to add more versatility to their portfolio.  Previously the grapes from this island were used only to make fortified wines from zibibbo (moscato) grapes.  Her father, seeing greater potential, chose to make a passito wine by drying the wines on racks.  The resulting sweet wine is mesmerizing, with nut and honey qualities and a remarkable liveliness with vibrant acidity.  It also makes for some of the most unique food pairings I've seen.  I'll get to that in a moment.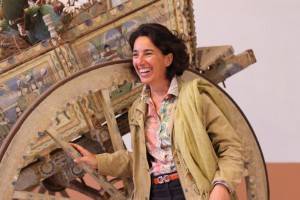 Her father was determined to prove that the area could be focused on quality and has paved the way for change.  "He brought modern techniques to the region that he learned from California.  And my brother, Antonio, is a maniac for details."  This combination lead to an environment that encouraged creativity and experimentation.
"Our company is founded on two very important qualities –freshness and elegance – and we have very clear guidelines about that.  As long as those two factors are acknowledged, [our team] can do all the experimenting they want."
And experiment they do.
Risk Takers and Innovators
In addition to the 338 hectars (835 acres) of vineyard production between Contessa Entellina and nearby areas and the island of Pantelleria, they have several acres of experimental vineyards where they focus on clonal selection of indigenous varieties. On the island of Pantelleria they are conducting experiments focusing on the enhancement of the zibibbo (moscato) grapes that go into the production of their sweet wine made from the sun dried grapes.
They produce no bulk or box wine here and their labels are as interesting and innovative as the parents who broke away from the status quo to start this company.
"Even back then my mother understood the importance of first impressions," referring to the importance of wine labels to send a message about what's inside.  "In the beginning it was all about this woman with her wild hair tossed about," but they eventually wanted to tell a more detailed story of the wines through each label. This imagery was so integral that they hired an artist to come up with paintings that reflect the vision of each wine.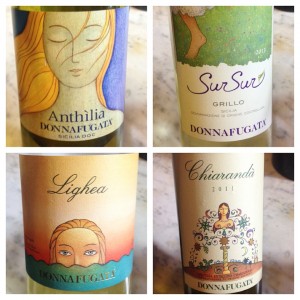 These labels are, in one word, fascinating (not to mention brilliant from a marketing standpoint).
For instance, the label of their Sur Sur, made from 100% grillo grapes, has an image of a young girl's feet running through the grass, representing springtime and revival, which is exactly what you get out of this bright and fragrant wine with vibrant lemon flavors and a touch of grassiness similar to Sauvignon Blanc.
But their push for innovation didn't stop with the wines.  They also have a strong focus on social media, not a common thing in this area.
Focus on Social Media
At a time when the wine world had a hard time accepting social media Donnafugata embraced it.  You'll not only find them active on most social media sites, but their website is also accessible in nine different languages.
Josè is behind this whole strategy.  Social media, she explains with passionate energy, "is thinking, it's listening, it's using a different tone to whomever you are speaking with… It's not like buying an ad in a magazine. Social media is all about listening.  You must listen to your people."
She compares this focus for engaging with others with her passion as a singer.  Yes, as if running a large winery wasn't enough, Josè is also a talented performing artist.  "I am a singer, when I sing, the first thing I do is listen to the audience.  Not the band, but my audience.  I listen to my public, and I respond to their energy.  I sing because I have a gift to give to my audience, and I have to adapt my message to each audience I sing to."   With social media, "you also have to adapt to your audience."
What about the wines?
The wines I tried truly reflect the primary vision of the company – freshness and elegance – and this is similarly reflected throughout the island.  The wines were honest reflections of the grapes, unmasked by manipulation or oak abuse.  From their baseline white wines to their passito style wines, you'll find crispness and bright acidity in each sip.  The white wines — made from a combination of indigenous varieties like grillo, catarrato, and fiano, as well as international varieties like chardonnay, viognier — are bright, and lively.  The red wines — made from nero d'avola, cabernet sauvignon, syrah, merlot, and more — have bright fruit and refrained oak use and maintain that signature acidity.  Their higher end red wines, like their Tancredi (a nero d'avola and cabernet sauvignon blend) and well as their Mille e una Notte (primarily nero d'avola blended with other international red varieties), reflect more of an international style – rich, bold, smooth, with aging potential.  The Ben Ryé, the passito wine made on the island of Pantelleria, as mentioned above, is stunning.  In fact, the family is on a mission to prove that it is more than just a dessert wine.
Daring Pairings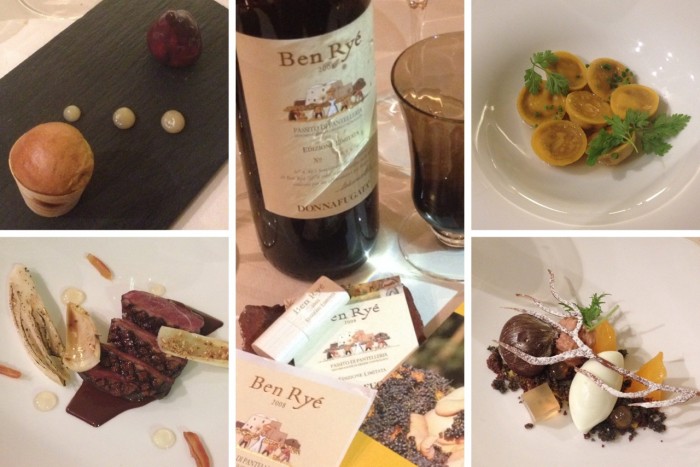 On my final evening in Italy I attended a dinner where the Rallo family hosted a multi-course meal with just one featured wine — the Ben Ryé, Passito di Pantelleria DOC.  Beginning with simple appetizers, like crispy shrimp head with citrus and potatoes topped with lobster al nero, the idea was to prove that this one wine can be used as more than just a dessert option.  Some of the pairings were more typical of this style wine, foie gras for example, but they also paired this golden honeyed wine with grilled duck. My favorite pairing was with stuffed pasta soaked in a bay leaf broth.  It was a very risky endeavor, but each course worked amazingly well with this "dessert" wine.
The Future
All of the producers I had the pleasure of visiting in western Sicily had a similar theme, with a focus on quality and purity of fruit.  This is a large and important region, with a growing emphasis on quality and innovation. I have greater appreciation for the investments I saw in quality and look forward to more wines coming out of the region.