So you've tried a lot of the regular wines you find on wine lists and in shops. You've been to a few (or more than a few) tastings. You know what you like. And now you're looking for the next type of wine to try. Not just something that is super-trendy with the sommelier set for an instant – and then on to the next…whatever.
Isn't there a type of wine that fits somewhere between the same old Sauvignon Blanc and a rare mountain-village product whose major appeal is its obscurity?
Well yes, there is. In fact, I'll tell you about it right now because I just returned from a dinner of several courses paired with the wine that takes Sauvignon Blanc one step further. And blends it, to create elegant Bordeaux Blanc, or White Bordeaux.
Bordeaux Blanc is a pedigreed wine that few people are aware of. It's made mainly with Sauvignon Blanc blended with varying amounts of Semillon. Many Bordeaux châteaux produce Bordeaux Blanc. But if you want to shoot for the high end, start in the southern part of the region, with the Crus Classés de Graves. This is a collection of 16 great Graves châteaux, first elevated to Crus Classés status in 1953.
Graves ("GRAHV") got its name centuries ago because of the smooth stones in this alluvial (ancient river bed), sandy and gravelly soil. Why does this matter? This soil type contributes a certain finesse to both the aromas and the flavors in the wines. Graves is a place where two rather different grapes grow well: the tangy sauvignon blanc and the placid sémillon – along with tiny amounts of two more grapes sometimes also blended into these wines: muscadelle and sauvignon gris.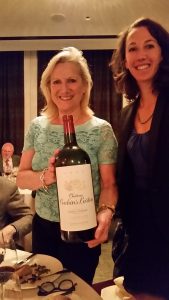 Two things surprised me about Bordeaux Blanc wines from this area. The first is that the wines can be very different, ranging from smooth and layered to zesty and herby. Combined with the fact that blends vary with the vintage, you can enjoy a variety of experiences in tasting, each year.
The second things is that though these Bordeaux wines are made to be consumed when fairly young – a few years after harvest – many of them age very well. I was lucky enough to taste several the other night, at a dinner in New York organized by the Commanderie de Bordeaux Union des Crus Classés de Graves.
Before dinner we first sampled the lively and balanced 2014 vintage of several Bordeaux Blancs. You can find other Bordeaux Blanc wines at lower prices, but these range in price from around $50 to $90: Domaine du Chevalier, Château Couhins Lurton (the only one not readily available in the US at present), Château Malartic-Lagraviere, and Château Smith Haut Lafitte.
Large format wines accompanied the dinner that night – a marvel of logistics as not only are Bordeaux Graves white wines produced in fairly small numbers, but these magnums and double magnums took quite a bit of sourcing, transportation and preparation. Not unexpectedly, a couple of the bottles (or magnums) were not at the height of their powers, appearing a bit faded or oxidized to our palates. But most were wonderful. Some of the most notable wines include the 2008 Smith Haut-Lafitte in magnum, the 2004 Couhins Lurton in magnum and bottles.
After reading this, you might think that only white wines are produced in Graves, which would be a grave mistake (pun intended). It's just that I was more fascinated with the whites that night. But the two "perfect pairings" of food and wine occurred with long-lived red wines. The first was the 2000 Smith Haut-Lafitte with the rabbit – a dish which was actually called Escalope de Lapin Panée à la Viennoise; Pistaches, Chanterelles, Rondelles de Citron Roti at Ail Confit. And the 1986 Domaine de Chevalier paired perfectly with the roast venison "Wellington:" Chevreuil Wellington; Châtaignes, Mousserons et Airelles. (Yes it was that kind of dinner.)