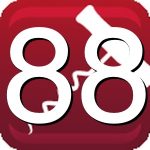 The nose shows black cherries, strawberries, and cream soda. The palate has red fruit that shifts, attack to finish, from sweet to biting, leading with strawberry, shifting to rhubarb, and ending with unsweetened cranberry. An underlying earth and spice, cinnamon and allspice, give it body and depth. Drink with rabbit pie. Recommended. 88.
WHO: La Rochelle
WHAT: Pinot Noir
WHERE: California, Sonoma County, Sonoma Coast
WHEN: 2009
HOW MUCH: $42
La Rochelle also offers Palate Press readers a 10% discount off online purchases, plus ground shipping on case purchases. Use promo code "PALPRESS" for the 10% discount and code "CASESHIP" for ground shipping. Shop La Rochelle here.