You've seen Sideways. You know Santa Barbara County. It's for Pinot Noir, right?
Santa Ynez Valley vintner Fred Brander thinks that will change. "I think in 10 years, Santa Barbara County is going to be better known for Cab than Pinot," he says. "Because that's where the money is. Around the world, Cab is still king."
This would not be a popular position in most of the county, or in the wine world. Personally, I don't agree with it. But Brander has an interesting point. Santa Barbara County has begun to discover its hot spots (literally) for Cabernet. And vintners there have helped by doing a much better job than the rest of California in creating AVAs that actually mean something.
That effort to identify a section of the county that's particularly good for one type of wine started with Pinot Noir, specifically the Sta. Rita Hills AVA, which was approved in 2001. Sta. Rita Hills has the long, cool, dry growing season that has made it and its wines famous. But it also has come to define the entire county in the minds of many wine drinkers.
"I was tired of going to tastings and having people say, 'Pinot Noir is the best wine from Santa Barbara County'," Brander said. " 'You guys on the east side can't make good wine'."
Like most coastal counties in California, Santa Barbara County is warmer on its east side, further from the ocean. But wine bottles don't come with county maps.
There also have been residual market resistance to Bordeaux varieties from Santa Barbara because the first Cabs and Merlots planted in the county were in places that now grow Pinot and Chardonnay because they should. Thanks to vintner Greg Martellotto, I tasted a 1980 Cabernet Sauvignon from Sanford & Benedict Vineyard, one of the most respected Pinot vineyards in California. I liked it because its high acidity kept it fresh all these decades, but it had some of that vegetal flavor that is not popular in a fruit-loving country.
The first step to changing that reputation hasn't really paid dividends yet. The Dierberg family came from the Midwest, where they made money as bankers, and in 1996 bought a huge ranch in beautiful Happy Canyon in eastern Santa Barbara County. Called Star Lane, it had been a dude ranch and a horse-riding retreat for Hollywood celebrities. Its owner during the 1960s, an aerospace magnate at Lockheed, designed bridges on the property to hold and launch nuclear missiles.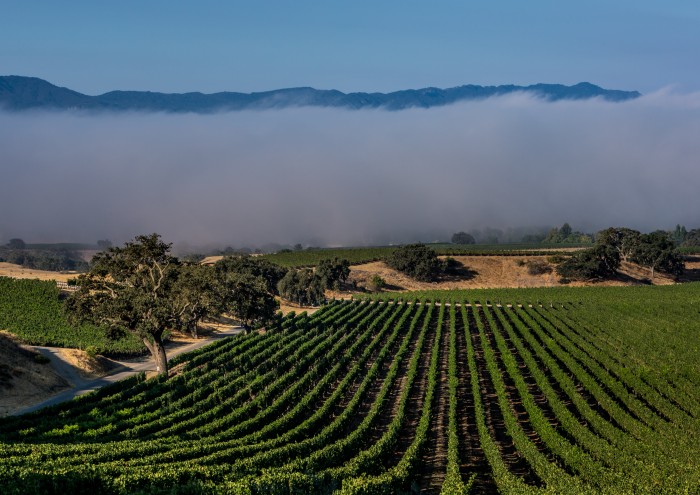 The Dierbergs like Bordeaux wines and they planted 200 acres of Bordeaux varieties at Star Lane – a strong statement for Santa Barbara County. They also built a no-expense-spared winery. At first, it seemed to be a mistake, as their early wines were all over the map. Even now, Santa Barbara County has only 700 acres of Cabernet Sauvignon, less than it did 15 years ago, so the Star Lane vineyard is enormously important. In fact, it is to Cabernet in Santa Barbara County what the Antinori family's huge plantings of Sangiovese on Atlas Peak in Napa Valley in the 1990s were to the image of Sangiovese in the state. Star Lane is not too big to fail, but if it does fail, it fails everyone.
The jury is still out on that, frankly, but Happy Canyon at least has its own AVA; its application was approved in 2009.
Two key things happened in 2013. First, Ballard Canyon, on the east side of Santa Barbara County, had an AVA approved (like all the others, it was written by winemaker and TTB filing expert Wes Hagen.) The AVA requires vintners to make Syrah, but Ballard Canyon AVA is more important to the Cab story than you might think. Not only does it get people thinking about a grape other than Pinot; all of its official communications contrast it with cooler Sta. Rita Hills and warmer Happy Canyon even further east. Plus, Ballard Canyon's eastern border served as the western border for the next application, for Los Olivos AVA, which was approved earlier this year. Los Olivos District has about half Bordeaux varieties planted.
The other key thing that happened in 2013 was that the Dierbergs hired Tyler Thomas as winemaker away from a top Syrah producer in Sonoma County, Donelan Family Wines. Thomas, who has a background in plant physiology, convinced the Dierbergs to focus on freshness rather than worrying about eliminating pyrazines, an obsession in warmer Paso Robles to the north, not to mention most of Napa Valley. The hope is to have fresh herb flavors – instead of kale – but not to leave the grapes on the vine so long that the wines are flabby.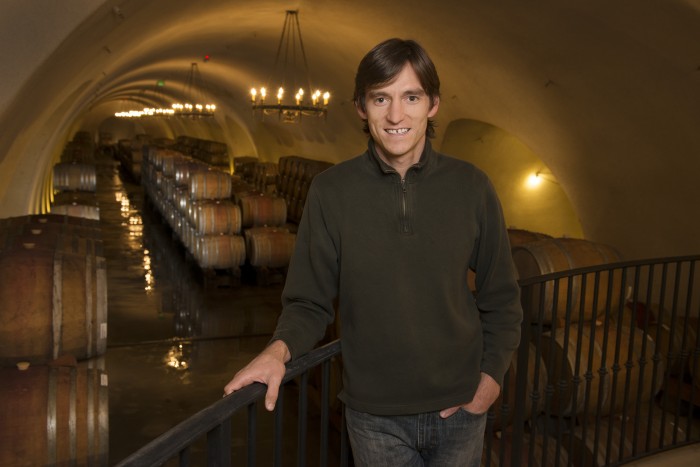 "We've discarded worrying about greenness and we're fully focused on texture," Thomas said. "If we're not true to what Santa Barbara County can give, we're never going to succeed."
It's too early to tell how Thomas' wines at Star Lane will be. He started in July 2013 and the 2013 vintage has just been released. It has good freshness but the tannins are formidably dense.
But some of Star Lane's neighbors are making fine Cabernets and having a group of them together will make them easier to sell. It may not be too early to say that managing tannin, not pyrazines, is their true challenge.
Brander Santa Ynez Valley Cabernet Sauvignon Reserve 2014 is excellent, with characteristic Cab character of cherry fruit, fresh herb and a touch of cigar box. It's well-balanced, complex and elegant, and 14.1% alcohol. Grassini Happy Canyon Cabernet Sauvignon 2013 has 14.7% alcohol and formidable tannins but they're well-managed; this wine might age well.
I really enjoyed a Cabernet-Syrah field blend inadvertently planted by Steve Beckmen's father, the Beckmen Vineyard TLB Santa Ynez Valley red wine 2013. It's nicely fresh and fruit-driven with a touch of minerality.
Beckmen's father mistook some young Syrah plants for Cabernet, though Steve seems to doubt that it was an accident. "At first I was like, 'Oh no'," Steve Beckmen said. "But then I sat on it for a little while and said, it could be cool. I think the Syrah works with the Cab to give a different type of tannin than you get with pure Cabernet."
Beckmen is best known for Syrah, but he more or less agrees with Brander that Cabernet will be a future well-known wine from Santa Barbara, especially outside California.
"Our Cab sells in the Midwest. It sells in Texas," Beckmen said. "Syrah continues to be challenging (to sell)."
Now if only there was more varietal Merlot from Miles and Jack country. Haha, just kidding, put the motorcycle helmet down.
All photos courtesy of Jarvis Communications.