These days, the Niagara region, in Ontario, is all about the drink that first brought it international recognition and fame: icewine. Harvested when the true cold of winter hits, yet shining with sunny, heartwarming aromas, this high-priced elixir allowed the fledgling Canadian wine industry, in the 1980s, to show the world something distinctive and delicious. And while there is now a lot more going on in Canadian vineyards, it remains a symbol of success for the national wine industry.
A record-breaking, four-foot tall, Ontario-made wine flute filled with 27.5 liters of icewine
The yearly Niagara Icewine Festival, continuing until January 30, allows wineries to showcase this delicacy, as they set up an Icewine Village in the streets of charming and historic Niagara-on-the-Lake and "pour liquid gold" on the weekends. Conferences with leading icewine specialists, dinners at local restaurants matching icewines with the various courses, winery tours, and special events rival to get the attention of the public over the event's three weeks.
The success of icewine, which still dominates the wine section of Ontario airport duty-free stores, is a matter of great local pride. Donald Ziraldo, former chairman of Inniskillin, where Canadian icewine was first made in 1984, sees its introduction and rise to fame as a "huge" event in the history of Canadian wine. "It put Canada on the world wine map and it became the foundation upon which I went out into the world and promoted icewine as Canada's contribution to the wine world—having, along with my partner [then Inniskillin winemaker] Karl Kaiser, 'borrowed' the idea from the Germans."
Almost thirty years later, icewine has kept its luxury branding intact. However, there is also a growing effort to make the product more fun and find new uses for it. The Icewinefest features an icewine cocktail competition, wineries create imaginative events where they offer icewine slushies and mulled icewine, roast icewine marshmallows, serve Cabernet Franc Icewine with a Moroccan tajine and more. The festival even started with the pouring of a world record: the largest icewine flute in the world, with some 27.5 liters poured in by various participating wineries, an investment of several thousand dollars worth of wine and a feat that was immediately certified by Guinness.
Meanwhile, wineries have been making considerable efforts to encourage wine lovers to consider icewine in a new light, beyond pairing it with foie gras or desserts. Inniskillin, before Christmas, sent out bottles of its (excellent) 2007 Vidal Icewine to journalists, with a series of recommendations: using a couple of spoonfuls to create a rich and aromatic vinaigrette, pairing it with scallops or even with fresh oysters topped with a bit of Vidal Icewine mignonette sauce. The promotion made no mystery about the fact that visitors to the winery often expressed that they weren't sure when to serve it. Clearly, the industry is realizing that icewine's reputation is not enough, in and of itself, to sustain the market.
The virtue of Vice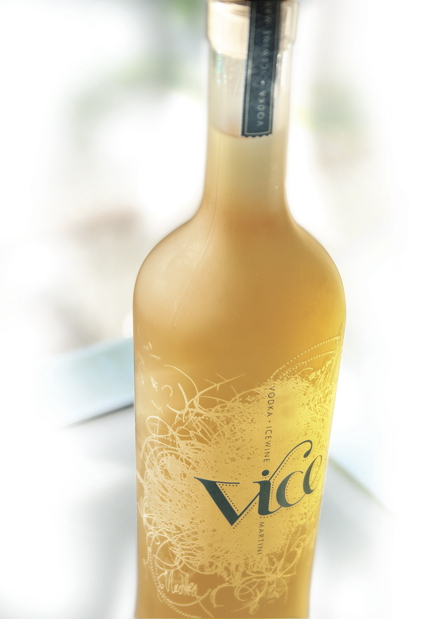 The most important and most successful initiative, in this rethinking of the image of and market for icewine is Vice, an innovative drink imagined at Vineland Estates, a producer of solid reds (including a beautiful reserve Cabernet Franc) and stellar Rieslings (the St Urban's vineyard, one of the oldest vinifera plantings in the Niagara, dating back to 1978). This blend of vodka and icewine, clocking in at 20% alcohol, is officially designated as an icewine martini, and required the creation of a whole new product category at the LCBO, the Ontario monopoly for wine and spirits.
Brian Schmidt, vice-president of operations and winemaker at Vineland, explains that the idea from the drink goes back ten years, when his brother Allan (the president of Vineland) visited a Fairmount hotel bar in Alberta. There, he discovered a cocktail made from vodka and icewine that the hotel's barman had devised to showcase icewine for an audience that was more into cocktails and liquor. Attracted by the concept, the Schmidts weren't sure how to proceed to convert the drink into a product they could put on the market. "Being puritan, we figured that the laws would be too complicated for us to consider making it", he explains, adding that eventually, "we realized there was an opportunity to create a whole new category, the first one to be introduced in a long time."
After a full year of product development, Vice, a blend of Niagara Icewine and Canadian vodka made by Maverick Distillers, to be a 100% Canadian product, was released on July 29, 2009. With a bit of guesswork: "We had no reference for sales, no idea how popular it would be."
The first bottling, a total of 400 cases, was meant to last until Christmas. By the end of 2009, two-more same-sized bottlings had to be done to keep up with demand. By the end of 2010, total production was just south of 6,000 cases, and new methods for blending and bottling the product, to accommodate growing production, had to be devised as volumes increased.
There's reason for the product to be successful. Not being much of a martini man myself, I confess that I poured myself a second glass—oh, okay, and a third—when I first tried it, simply served on ice. All the lovely stonefruit and honey aromas of icewine are there, opened up and given an extra kick by the vodka. It's hard not to like it—with or without a twist of Meyer lemon.
The only question remaining is how long it will take before others follow along the trail blazed by Vineland. In the meantime, Brian Schmidt thinks that "people will be making their own icewine martinis", something that can only help icewine sales. "We need to unleash ourselves from the confines of traditional thinking," he adds.
A way to deal with surpluses
Such efforts are prompted by a will to respond to changing consumer trends, but also by the presence, in Niagara cellars, of significant inventories of unsold icewine, something that the industry has, understandably, not made much noise about.
Brian Schmidt explains that this surplus first appeared in table wines, in part because of higher production, with more vineyards coming online, and also because of the growing importance of Cellared in Canada wines (international blends bottled in Canada that contained more foreign than local wine, yet were marketed largely as local).  As some wineries had more trouble finding room for their table wines, "the surplus moved on to icewine," adds Schmidt. Producers left more grapes hanging on the vines to convert them into a higher added-value product—something shown by the rapid multiplication of Cabernet Franc and Cabernet Sauvignon Icewines in the last five years.
It is in this particular context that the 2008 recession hit, slowing sales of icewine considerably, just after a high amount of wine came on to the market, as shown by statistics found in annual reports from the VQA, the organization that oversees and approves the release of 100% Ontario wine. In the year ending in March 2008, the amount of icewine approved by the VQA shot up to over 140,000 cases, before dropping back under 100,000 cases in the year ending in March 2010.
In this slower economic climate, there was suddenly a lot of icewine on shelves and in warehouses, prompting wineries to look for ways to resorb these sudden surpluses.  Necessity, as they say, is the mother of invention.
As wineries work to get over present surpluses, they have to walk a fine line between finding ways to unload their inventories and preserving the luxury branding of icewine. Discounting the product could prove very risky, says Donald Ziraldo: "People should not discount luxury to sell. That is counterproductive. Nor should producers lower their standards because times are tough. Luxury and quality imply high price, however we must deliver the quality." Brian Schmidt concurs, saying that discounting icewine because of current circumstances would just set the discount price as a new and lower regular price. Both men note that the industry has been pretty good at keeping its discipline and preserve the icewine brand, while the surplus gradually resolves itself.
This is where a product like Vice becomes particulary interesting, as it largely sidesteps the issue. For the industry, it has the "ancillary benefit," as Brian Schmidt puts it, of helping to clear inventory. Vineland has been buying bulk icewine from other Niagara wineries to meet demand for its new cocktail product. While selling icewine in bulk for Vice does not provide as high a premium as retailing pure icewine would, it doesn't affect the perception of "real" icewine, because it is a thing of its own.
A similar logic could be surmised when considering the release, in the summer of 2010, of Megalomaniac Wine's Homegrown Riesling, a summer sipper sold for $13.95 that contained 10% of Riesling Icewine. While the product is not  expensive, it does not cheapen the icewine brand, but rather adds a touch of luxury—and aromatic richness—to an everyday wine.
The emergence of these new products could also be read in relation to quality levels, with more "ordinary" icewine sitting in tanks while the top-quality wines still find their way to their original market. As Donald Ziraldo explains:  "In searching out icewine for a current project, I have not found that much 'high quality' icewine available. I did taste quite a few, and there is inventory, however finding high quality icewine is not that easy." Could the current turn of events be a way to separate the good from the great?
Not the only game in town
Donald Ziraldo
Another factor changing the market for icewine is the increasing quality of Canadian table wines. Icewine is no longer the only thing one would think of, say, serving for that special dinner or offering friends from abroad. And that, says Ziraldo, is a good thing, in the end:  "No doubt there are some that say that icewine is a good flagship. However, we need to be famous for table wines. A very big task, for many reasons. (…) When you say wine, Canada does not come to the top of the list. However I believe icewine acts as an 'umbrella.' Now that we have established ourselves as world-class vintners of a premium luxury brand, people will follow our table wines. What is great about that is that they will not expect us to sell at lower prices. Therefore we can present our best table wines."
Many have been actively doing that, trying to move Canada's international reputation for wine beyond the sweet stuff that came in from the cold. Last May, Bill Riedelmeir, owner of Southbrook Wines, one of the most interesting producers in Niagara, organized the Seriously Cool Chardonnay tasting in London, with over twenty producers showcasing some of their top cuvées of Chardonnay and getting enthusiastic reactions from London wine columnists like Jancis Robinson. Riedelmeier is now aiming his guns at New York, where a second Seriously Cool tasting will take place in mid-March. And in July, the International Cool Climate Chardonnay Celebration, inspired by the International Pinot Noir Celebration of Oregon, will keep up this Canadian effort of presenting another signature wine to the world.
Energies and focus may be turning elsewhere, but Ziraldo, who now produces icewine under his own name, and who is also working on new projects aimed at the US market, remains highly optimistic for icewine: "I believe it can become a global brand just like many of the great luxury brands that exist today. They were not built overnight and require focus on quality, commitment, and hard driving marketing by the entire Canadian industry." And perhaps also a little bit more imagination.
Correction: the story originally stated that both Brian and Allan Schmidt were in Alberta to taste the cocktail that led them to devise the Vice icewine martini, when it is in fact only Allan Schmidt who was there.
---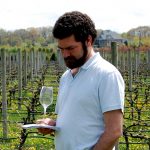 Rémy Charest is a Quebec City based journalist, writer, and translator. He has been writing about wine and food for over 12 years in various magazines and newspapers. He writes two wine blogs (The Wine Case, in English, and À chacun sa bouteille, in French) and, as if he didn't have enough things to do, he recently started a food blog called The Food Case.