When I first heard that wines were now being produced in Thailand I laughed it off as gimicky. A winery in the tropics? Seriously? But I was also intrigued. After some research I found out that CNN has reported about wine travels in Thailand, there are tour operators offering wine tours there, and Jancis Robinson wrote about Thai winemaking as early as 2006. With growing interest in wine and an acknowledgment that wine can be a great companion to Thai food, local interest has grown and sparked a wine-making movement.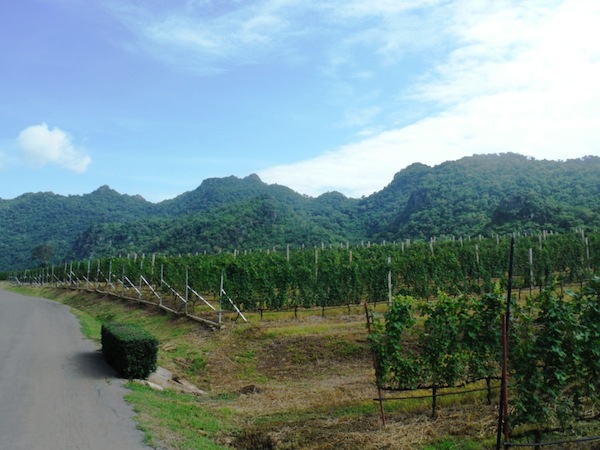 So while on vacation in Thailand this summer, I visited GranMonte Vineyard and Winery, founded in 1999, owned and operated by Visooth and Sakuna Lohitnavy. GranMonte is at the helm of the still-small Thai wine-making community.
The 32 acre estate which produces around 90,000 bottles annually is located in the Khao Yai region, known for its beautiful scenery and national parks; this are has become kind of a Napa Valley for Thai winemaking. With stunning landscapes, state of the art buildings and facilities reminiscent of estates in California or Australia, irrigation systems and weather monitoring stations, it has a New World look and feel. Their wine is still mostly sold regionally and is available in Bangkok's wine bars and upscale Thai hotels. However, you can now find some in San Francisco.
Visooth and Sakuna's daughter Nikki is one of the estate's biggest assets. She took over operations in 2008, when she was 21. She is the only Thai female winemaker holding a degree in oenology from Adelaide University, Australia. Her ambition, energy and passion are immediately apparent when you meet her in the cellars. And she loves to experiment: currently the winery is producing a few hundred bottles of Crémant; in the past they have also tried harvesting vines twice a year. Nikki's professional experience includes working the harvest and making wine in Brazil, Australia, South Africa, Portugal and France – which makes her part of an international generation of young wine makers who gather experience in different regions and then bring that knowledge back to their own cellars…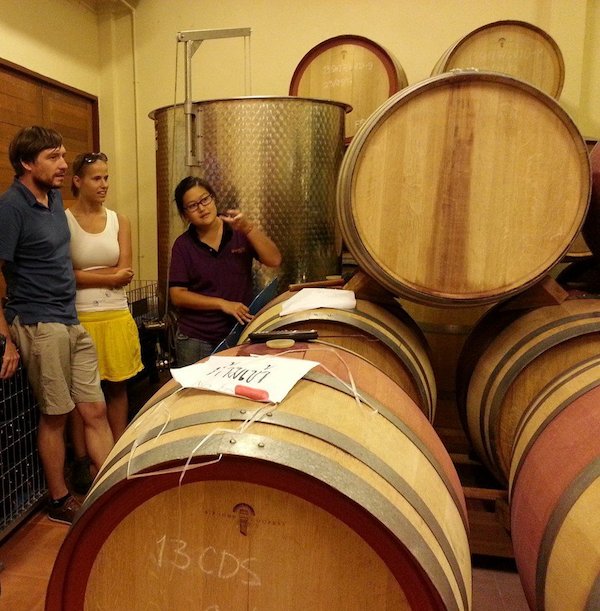 But what about the wines? After all, shiny equipment is worth nothing if the wines don't come through. I tried almost the whole range of GranMonte's line up, from the just-bottled 2013 vintage to their older flagship wines. The wines showed finesse and craft, some were really surprising, and overall I was quite impressed. The 2012 Verdelho, for example, poured strong yellow with a nose of papaya and passion fruit. On the palate it was medium-bodied, silky and creamy, with good acidity, lemony undertones and a nice pepper aroma finish. Just very drinkable. One of their high end wines, the 2009 The Orient Syrah, was more Old World in style. It showed fruity aromas and layers of leather, with balance and restraint. This was good already, but I can see it developing very nicely in the bottle over the next five to ten years.
Visooth and his family have created an astonishing enterprise from scratch in just 15 years. Everything is impeccably maintained, professionally run and managed. The waitstaff at the winery's upscale restaurant VinCotto is attentive and courteous, and the food is delicious. Visooth, Sakuna and Nikki are charming, energetic and passionate and convey a sense of pride in their accomplishments that is well deserved.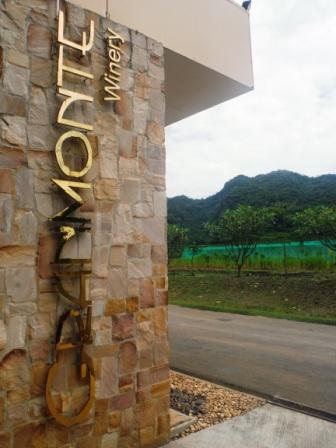 Don't just take my word for it: GranMonte has been garnering awards from the International Wine Challenge in Vienna, the Japan Wine Challenge and Syrah Du Monde, to name a few.
The Khao Yai region is a two and a half hour drive north east of Bangkok and can be reached either by rental car, taxi, minivan or public busses. If you contact GranMonte, they will be happy to assist. GranMonte also has a gorgeous guesthouse on its premises, with some rooms overlooking the vineyards.