Getting wine from wineries to store shelves is complicated – and not just because of strict U.S. interstate distribution laws. Simply transferring wine into bottles presents a myriad of challenges, especially for small artisanal wineries.
Bottling equipment is a massive investment, often costing hundreds of thousands of dollars – even for the most basic models. Hand bottling setups, which also require significant investment, depend upon large volumes of man power and limit bottling to a few hundred cases per day in the best case scenario. With automated bottling lines, when you add in costly, year-round maintenance of these complex machines which are used just a few times each year, the bottling process can seem daunting to all but the most lucrative wineries.
"When we started this business, there weren't any options for small wineries," says Eva Drummond, who started California's first mobile bottling line in 1978. Drummond got the idea to put a bottling line on a trailer after her employer , who built winery housings, recalled a trip to Germany where small wineries regularly shared bottling equipment unlike their American counterparts. In the United States, small wineries were either required to invest in stationary bottling lines or forced to ship their wines to large bottling facilities – which meant they would lose the advantage of labeling their wines "Estate Bottled."
After a few months of tinkering with what she calls, [his] "stainless steel monstrosity," Drummond's employer suggested she take on the business: she could run the mobile line he'd built and begun operating. "The day we applied for our small business loan from Bank of America, we got approval," she said. "The banker said this line was the most intriguing business idea he'd ever heard."
Nowadays, mobile bottling lines are commonplace in wine regions across the United States, They combine all the separate pieces of a bottling setup – corker, labeler, filler – in the compressed space of a tractor trailer, usually only 100 inches wide. Wine is pumped from the winery's tanks into the truck, where bottles race up one side of the trailer through filling and corking machines, then jostle down the other side to be labelled and packed into boxes, riding on tiny conveyor belts the whole way. The setup is similar in appearance and speed to that of a stationary line, but it doesn't force small wineries to sacrifice often-critical winemaking space.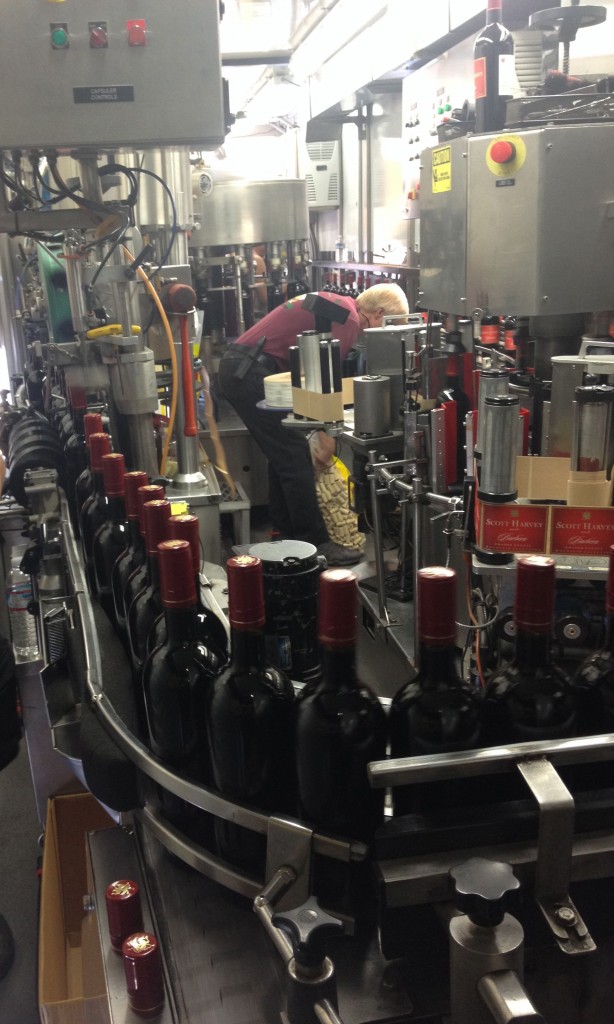 Compared to other lines in the state, Mobile Wine Line's single truck operation is small, but Drummond's son Harry Hakala, who now owns Mobile Wine Line believes their size allows the company to focus on efficiency and quality.
Hakala starts his days early, often arriving at rural wineries at 3 am to prepare for a day's work. Wineries supply not only their wines, but also the cases, corks or screw caps, and labels for each variety, and pay between $2.50 and $3.00 per case for bottling services. Mobile Wine Line averages 82 bottles per minute, or roughly 2,500 cases per day, more than twice as many cases as when the line debuted 37 years ago. Hakala explains, "We don't rent the line per se, our men always accompany and maintain the equipment. The winery is renting our expertise."
And that expertise is vital on fast-paced and hectic mobile lines where bottles go from empty to complete in ten seconds. Like bees in a tractor trailer hive, two to three operators buzz from one station to another monitoring hundreds of bottles, ready to stop the line in an instant if a bottle breaks or a spool of labels runs out, disproving the notion that bottling lines work perfectly at the push of a button.
"Our first truck was a monster the men called the pizza oven," recalls Drummond, who is almost 90 years old and still works regularly on fixing and maintaining the truck. "Everything was bolted down, and driving on rough roads would jolt the machines out of whack. Luckily, our men have always been great at Mickey Mouse-ing things to get them to work – we love duct tape." Hakala notes most of their early clientèle were in disbelief that bottling equipment could withstand so much travel.
Not only do machinery and "goat paths" of roads in the wine regions add an adventurous element to mobile bottling operations, but variety in bottle shapes and labels complicate the process, according to Hakala and Drummond, who always keep spare parts on hand.
"We don't have a single piece of equipment that we haven't modified," explained Drummond. "We take everything apart – usually on the living room floor – and put it back together stronger or lighter to make it work best for us."
According to Drummond, it's that tinkering spirit that makes Mobile Wine Line the best in the business. "We close down every year and take almost two months replacing all the little bearings and worn out pieces on our equipment. That's what lets us run so efficiently, and why we don't lose clients. We've never failed to finish a job."
For Hakala, who travels incessantly between Paso Robles and Northern California's Lake County, providing this valuable service to wineries makes all the noisy chaos of the line worthwhile. "It's tiring, but I love the feeling when we're successful and get genuine gratitude from the winery."
And after a long day Mobile Wine Line rolls down its doors and glides onto the road, its shiny machinery quiet and camouflaged for its journey to the next winery, where it hums to life with the next lot of wine.