Each week until the end of the year we'll take a look at different types of sparkling wines — champagne included, of course — so you'll be able to make a great choice for your New Year's Eve occasion.
Rather than an exhaustive explanation of champagnes and sparkling wines, this series is meant to provide an overview along with some food-pairing tips. We'll a few examples, both classic and new. Read the descriptions and you'll be able to find something similar if your wine shop doesn't happen to stock the wines mentioned here.
How is it possible that only a few years ago most people outside of (Northern) Italy had never encountered Prosecco? And now it's everywhere. We're sipping it before dinner from Los Angeles to London, from Indiana to India.
As recently as a decade or so ago, only the people from the Prosecco region knew the best ones to drink, while the rest of the world got an uneven supply – in quality as well as quantity. Feeding the rising trend in sparkling wine consumption, Prosecco producers have been upgrading their wines – and it shows.
Prosecco is a sparkling wine produced in the northern Italian region of the Veneto, which always sounds romantic to me because it's near the dreamy waterways of Venice. Prosecco is a small, hilly district to the northwest, and the people born here are often content to remain and enjoy a traditional, modest quality of life.
Speaking of traditional, did you know that Prosecco has always been a slightly sweet wine? It's always astounding to me how many otherwise wine-knowledgeable people turn up their noses at the thought of a wine that's not bone dry. In fact, the most beautiful, balanced and lovely Prosecco wines proudly showcase some residual sugar with the rest of their floral, fruity, lively flavors.
And it's worth noting that Prosecco is also made in a range of pressures, from semi-sparkling to fully sparkling; it's often a bit less dramatically fizzy than other sparkling wines, with rounder, more floral aromas and flavors.
So what if you once got sick on cheap, sweet wine as a teenager? Get over it. Move on to a grown-up wine and savor the finely crafted sparklers of Prosecco. That being said, there are some cheap and nasty wines out there: price does make a difference with Prosecco. Great Proseccos are now made in both slightly drier and slightly sweeter styles. Though you can get more brut Proseccos now, make sure to look for the every-so-slightly sweeter ones (confusingly called "extra dry") in order to experience both tradition and quality – but do not skimp on price here.
What is Prosecco made from? People have been referring to Prosecco's main grape as prosecco but actually its name is now officially glera everywhere. Prosecco must be made with at least 85% glera; it can be 100% glera though a few other white grapes are allowed in the blend.

As an aside, I'd like to lodge a complaint here. A few years ago, there was a slight re-vamping of the whole Prosecco wine region and classifications. Some nicely-crafted Proseccos come from areas where they are qualified to be labeled Prosecco DOC, and this is a slightly larger area than the original heart of the region. But that's not my complaint. It's about the name change. The highest quality wines, the DOCG wines, are now distinguished by a special category: they are labeled Prosecco Conegliano Valdobiaddene Superiore DOCG. I understand that people are justly proud of their wines in the Conegliano and Valdobiaddene areas, but really…How is a simple American supposed to deal with so many Italian syllables on a wine label?
OK, back to the lovely Conegliano Valdobiaddene Superiore wines (usually priced around $20 and up). If you want to go up a notch within this category, the elegant Proseccos from the prime Cartizze hills are quite complex and enormously enjoyable. Look for the word Cartizze on the label. (Rive is the other special classification within this category, but there is currently less of this around.) For a special occasion, do make every effort to find a wine from the Cartizze area. (Prices are often in the $45 range)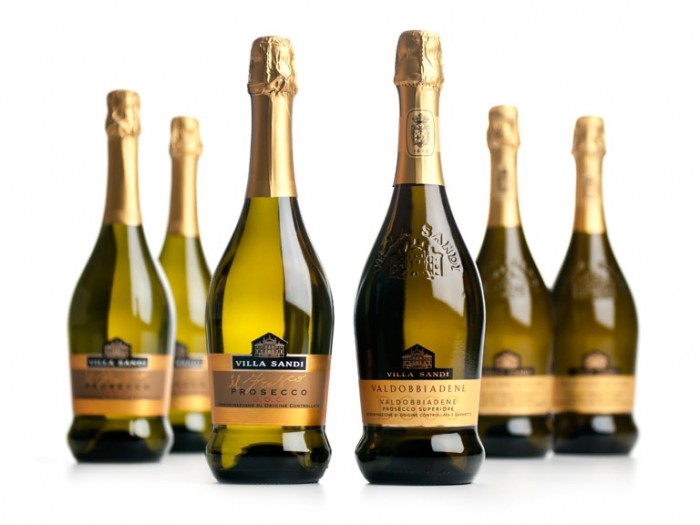 Otherwise, take a look at the DOC Proseccos (priced around $15). This is the most widely available category with many of the names everyone has heard of, like Mionetto and Villa Sandi. Classic Proseccos such as the NV Villa Sandi Prosecco DOC Treviso will show more peach and white flowers on the nose, with medium-small bubbles, flavors ranging from peach to red fruit, a medium body and good acidity.
There's also a lot of innovation going on in this category. Bottles are becoming more elegant, in sinuous or architectural designs: very appealing on the table. Altaneve Prosecco, recently launched in the US, comes in an elegant, long-necked bottle. Even Voga, famous for its irresistible columnar bottle is making a Prosecco in a more traditional, rounded shape – though I'm not sure this is such a good idea because gazing at a that well-designed flask always seems to minimize whatever flaws the wine might have.
New trends in all categories include the "undosed" sparkling wines, like in Champagne, with designations like non-dosage or zero dosage. There is also a strong movement in wineries using sustainable agricultural processes such as fewer chemicals in the vineyards and more responsible water handling in the winery. The well-known Mionetto brand now has a non-vintage Prosecco made with organic grapes, full of green grass aromas and flavors, with a nice, persistent mousse and a lively finish. Perlage's NV "Sgajo" Prosecco is not only organic, but proudly labeled vegan, too; it has wild earthy notes, and a grapeyness that stands up to a hearty meal, even a steak (ironic as that might be for a vegan wine).
Want to know one of the most popular pairings for Prosecco? Potato chips! Party on…